Last evening Rajinikanth's upcoming movie Petta had its first single release and expectations about the song were a little higher than usual, as director of the film Karthik Subbaraj himself announced that legendary singer SP Balasubrahmanyam (SPB) has lent his voice to the superstar actor.
To the unknown, the Rajinikanth - SPB combo have worked wonders for songs like Oruvan Oruvan Mudhalaali (Muthu), En Peru Padayappa (Padayappa), Devuda Devuda (Chandramukhi), Balleilakka (Sivaji), Pudhiya Manidha (Enthiran) and it had piqued curiosity, especially since SPB couldn't be heard on any of Rajini's recent songs.
The song became an instant hit with a majority lapping up the number but given SPB's short stint in Marana Mass (listen to it here), fans of the celebrated actor-singer combo have expressed their dismay on twitter. Anirudh, composer of the song who has also lent his voice to the 'Kuththu number' was pulled in the conversation as a result and this is what followed:
At last Anirudh made SPB a legend to sing a Chorus in his song. Very sad moment. SPB gave so many powerful Songs for Thalaivar and sad to hear SPB only for few lines like a Chorus in a song. 😡

— FINKY BOT 2.0 (@Finkybot) December 3, 2018
Dei why only four lines for SPB!?! What have you done by giving this album to Anirudh :/

— Narayan Ramachandran (@Nanz25) December 3, 2018
எஸ் பி ய ஒரு நாலுவரி எங்களுக்காக பாடுங்கன்னு ஆங்கர்ஸ்தான் ஸ்டேஜ்ல கேப்பாங்க.

அனி அவர ஸ்டுடியோவுக்கே வர வச்சி அத கேட்ருக்கார்.#MaranaMass #SPB #Anirudh #Petta #Petta1stSingle #ThalaivarKuththu

— Intelligent Dad (@inteligentdad) December 3, 2018
*Listening to Marana Mass*

Mind:
don't say it
don't say it
don't say it
don't say it
don't say it
don't say it
don't say it
don't say it
don't say it
don't say it

Mind:
SPB 20-30 seconds padunathukku bathila antha part aayum Anirudh eh paadirukalam.#MaranaMass

— K.B.Rohith (@Rohith888) December 4, 2018
Kali Kaalam, Anirudh full song paadraram, SPB chumma chinna track paadraram🤦🏻‍♂️

Kaala koduma kathirava #MaranaMass #Petta

— Surya Prakash (@itssuryahere) December 4, 2018
Very soon, this dismay turned into memes:
😂 @anirudhofficial #MaranaMass #SPB #Anirudh #Petta pic.twitter.com/lkYbDOWZxV

— sabreesh.s (@sabu92) December 3, 2018
Gubeer ... !!! :D :D#Petta #MaranaMass #SPB #anirudh pic.twitter.com/wDmZYMLbbi

— Chandramouly Sethuraman (@Theupdateking) December 3, 2018
#Petta

Yow Anirudh...
Sentiment kaaga guest role pannitu poitaaru SPB.
Paravala neeyum nalla thaan paadiruka #Anirudh

Nalla kuthu similar to aaluma doluma.#MaranaMass pic.twitter.com/0DjFi2RO6S

— Mr.Z (@TN38Tamilan) December 3, 2018
Making of Marana Mass song. pic.twitter.com/QiI5zVrQKJ

— Arun Pandiyan (@ArunPandiyanMJ) December 4, 2018
SPB : Ada Enaa engaya paade vite, Full eh neeyea paaditiyea ya @anirudhofficial 😂😄 why bruh why? #MaranaMass #Petta1stSingle #Petta #AnirudhRavichader #Anirudh @karthiksubbaraj @sunpictures pic.twitter.com/vlp0RvwCM8

— Saнιn parvaιZ™ (@iamsahin_) December 3, 2018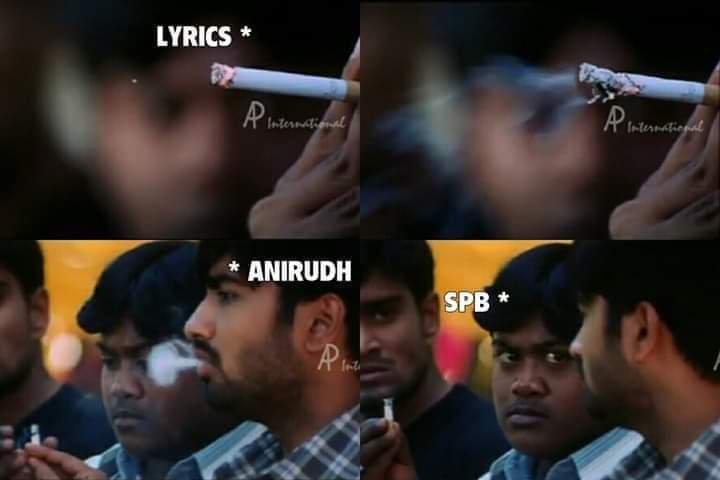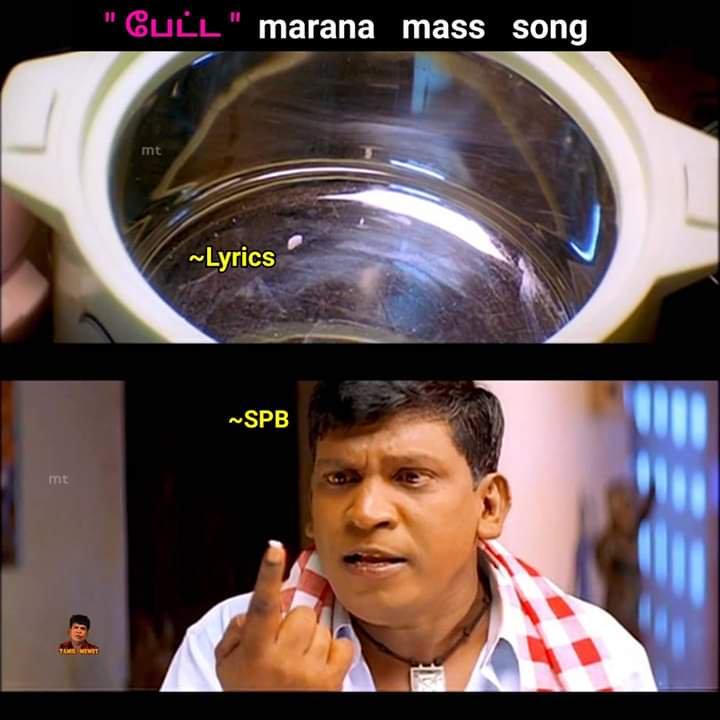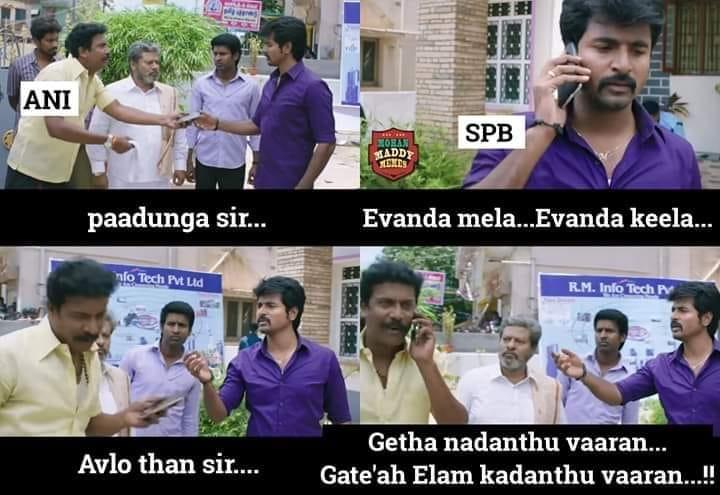 And there were theories as well as to why SPB was given such a short stint:
I think #SPB would have another song in #Petta so only that cameo in #MaranaMass

— Anirudh (@AnirudhVN24) December 3, 2018
Yes.. i think Anirudh voice is for Bobby Simha and SPB voice is for Thalaivar..🤔

— நிலா 2.0 🌝 (@neelaampari) December 3, 2018
To conclude, fans are eager to listen to a full fledged Rajinikanth song in SPB's vocals and whether or not Petta would be that album is something only time can tell.
songs La Therikuthu Vaalthukal Anirudh.other songs la Spb sir padirukara? We want full spb voice in 1 song from petta🙏

— Rajini Manickam 2.0 (@rajini_manickam) December 3, 2018