A lot has been happening around Sadak 2, a Hindi movie gearing up to premiere on Disney+Hostar on August 28, 2020. First, key people of Vishesh Films (producers and director of the film) got embroiled in the Sushant Singh Rajput death controversy. Simultaneously Sadak 2 leads Alia Bhatt and Aditya Roy Kapur faced the wrath of the movie-going public over the nepotism debate in Bollywood [So much so that Alia Bhatt had turn off/restrict comments on her social media pages].
Now with the Sushant Singh Rajput's case under more intense legal and media scrutiny, the Hindi film audience has taken it upon themselves to show their disapproval for the film by disliking Sadak 2 trailer. Even the rating of the yet unreleased film has hit as low as it could from the reviews of the general public.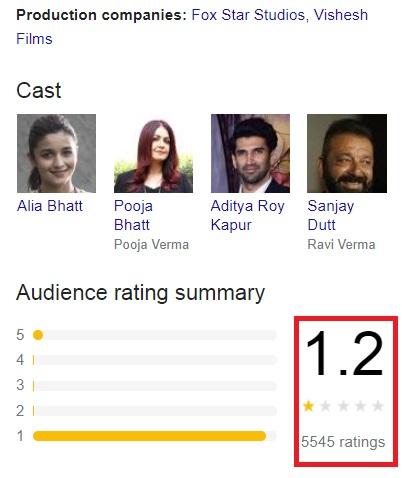 #Sadak2Trailer is on the verge of becoming the most disliked Bollywood film trailer on youtube ever. The Dislikes number has crossed 2 lakhs within hrs & may surpass 1 million mark by tomorrow itself. Really SHOCKING response. #Sadak2

— Sumit kadel (@SumitkadeI) August 12, 2020
Who wrote these dialogues and who told alia to make our ears bleed like that 😭😭#Sadak2Trailer #Sadak2 pic.twitter.com/DtVxynmZKh

— Navi (@NaviKRStan) August 12, 2020
Fox Star Studios faced a similar situation in the recent past when the Bollywood audience highly disapproved of actress Deepika Padukone's visit to a controversial college campus. The intensity of disapproval was so much at that time that Chhaapak's movie page was flooded with negative reviews and 1-star ratings [Chhapaak was critically raved upon release].
And just like Chhapaak, with Sadak 2 Fox Star faces an additional agony of being micro-analysed by Hindu religious and political interests.
In trailer Alia bhatt says In Guruo ke vajah se maine kisi apne ko khoya hai, Just for once remove the word GURU and replace it with Maulvi or Padri can you do that Mr Bhatt???? No discussion just replace it and relaunch the trailer... Not asking much @MaheshNBhatt #sadak2Trailer

— Rohitt Jaiswal (@rohitjswl01) August 12, 2020