Merely minutes after OTT platform Amazon Prime Video shared the link for Suriya starrer Tamil movie 24, a user of the streaming platform complained about audio redundancy in the video. Hilarity ensued when Amazon's help desk tried to intervene and resolve the matter.
An over-enthusiastic help-desk team from Amazon Prime tried to resolve the complaint of one Krishnasai Narayanan when he sent out the following tweet.
There is an audio glitch in '24'. The dialogues play only on the right side of the earphones. The background music plays on both! At times the dialogues are heard faintly on the left.

— Krishnasai Narayanan (@Krishnasai_Nara) July 16, 2020
However, despite the link for the movie displayed in the original tweet, the help desk asked the user to share the link for the movie only to get scathingly burned from users who have complaints about the streaming platform's search engine.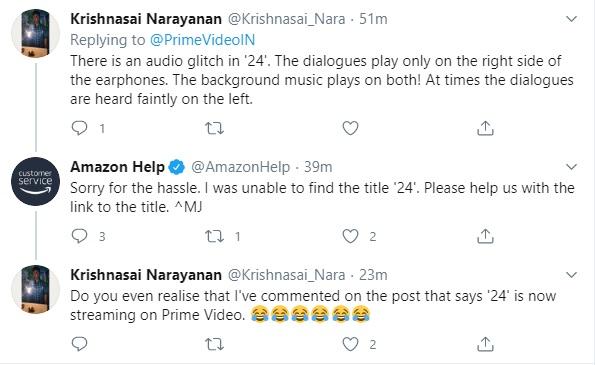 Twitter as if it was waiting its chance to take advantage of the situation turned the turn of events into a complaint-box, loading it with digs at the performance of the OTT platform's cringe-worthy UI.
I get your disappointment. Please click on this link here: https://t.co/I8ZIdfGCyJ to watch the movie. However, I'll note down your comments as feedback and forward it internally for review. ^VS

— Amazon Help (@AmazonHelp) July 16, 2020
I get your disappointment. Please click on this link here: https://t.co/I8ZIdfGCyJ to watch the movie. However, I'll note down your comments as feedback and forward it internally for review. ^VS

— Amazon Help (@AmazonHelp) July 16, 2020
I'll be sure to share your feedback internally, apologies for any inconvenience caused. ^JC

— Amazon Help (@AmazonHelp) July 16, 2020
To everyone who has struggle finding this movie, try searching "24 the" as in picture and u ll find the movie. pic.twitter.com/gs6bNJQlry

— Gurunathan (@guruspidey) July 16, 2020