Best Vijay Movies - Must Watch list to begin with for a non-Tamil Movie buff!
---
Tamil actor Vijay, popularly known as Thalapathy Vijay down South and 'Mersal' star in the rest of India is only a day away from turning 45 and fans of the actor are prepared in every possible way to make his birthday a memorable event (as they do every year). This means that social media will be filled with hashtag trends and references with the words 'Vijay; and 'Thalapathy' for the next two days and for the ones who would like to know a little more of what constitutes this frenzy, context follows.
Despite enjoying immense popularity and a huge fan-base over the years, it is safe to say that only a few films of his are known nation-wide; like Mersal that caused a controversial stirr-up in 2017 and Friends because one the comic characters from the movie made it to worldwide trends recently [internet is an unpredictable commune]. Beyond this if one is really looking forward to accustom themselves to the filmdom of 'Thalapathy Vijay', here is a list to begin with.
Please keep in mind that this list is more of a primer that would help you get accustomed to Vijay if you are outside of Tamil Nadu and not used to his body of work. ( His fans hardly need a recommended list. They will stay glued if he is merely present on screen !)
Poove Unakkaga (1996):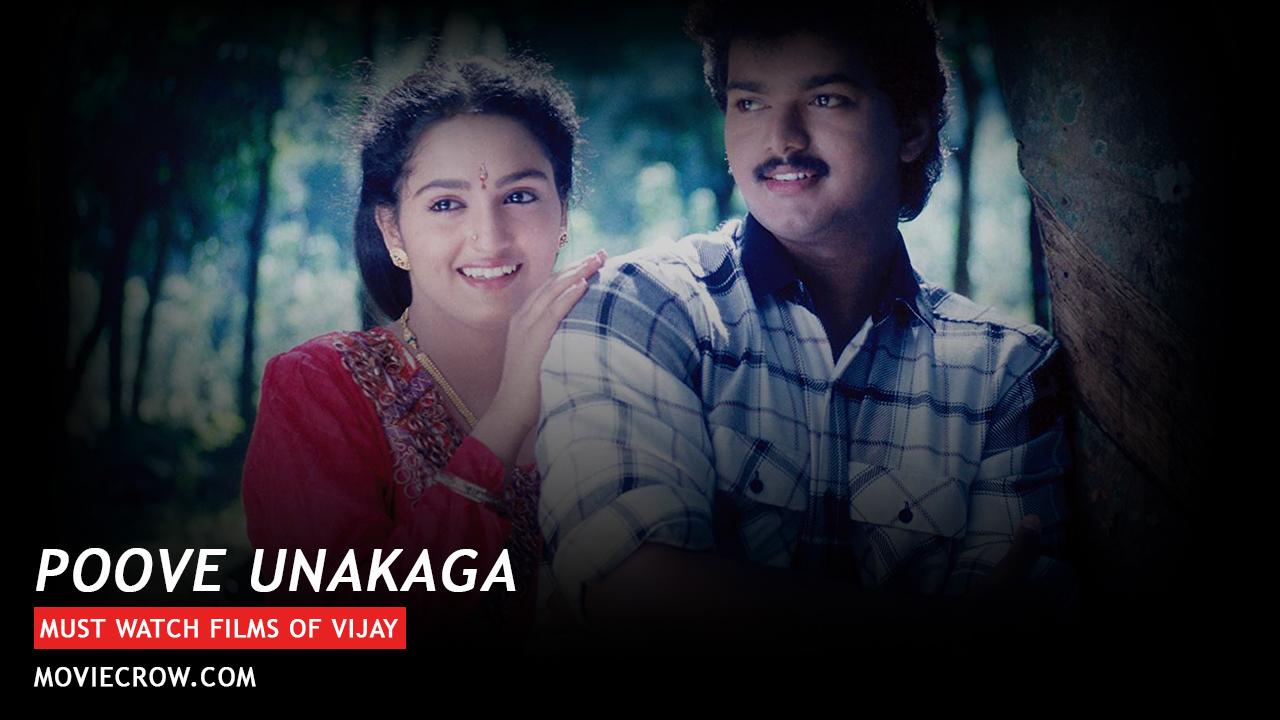 A film that gave Vijay his first big break and is remembered to date as one of the better movies of his career. Poove Unakkaga saw Vijay portray a peace-maker between two families with ease. Family values, message that religion should not be divisive and the belly-aching laughs this film provided makes it an easy watch any day.
Kadhaluku Mariyadhai (1997):
---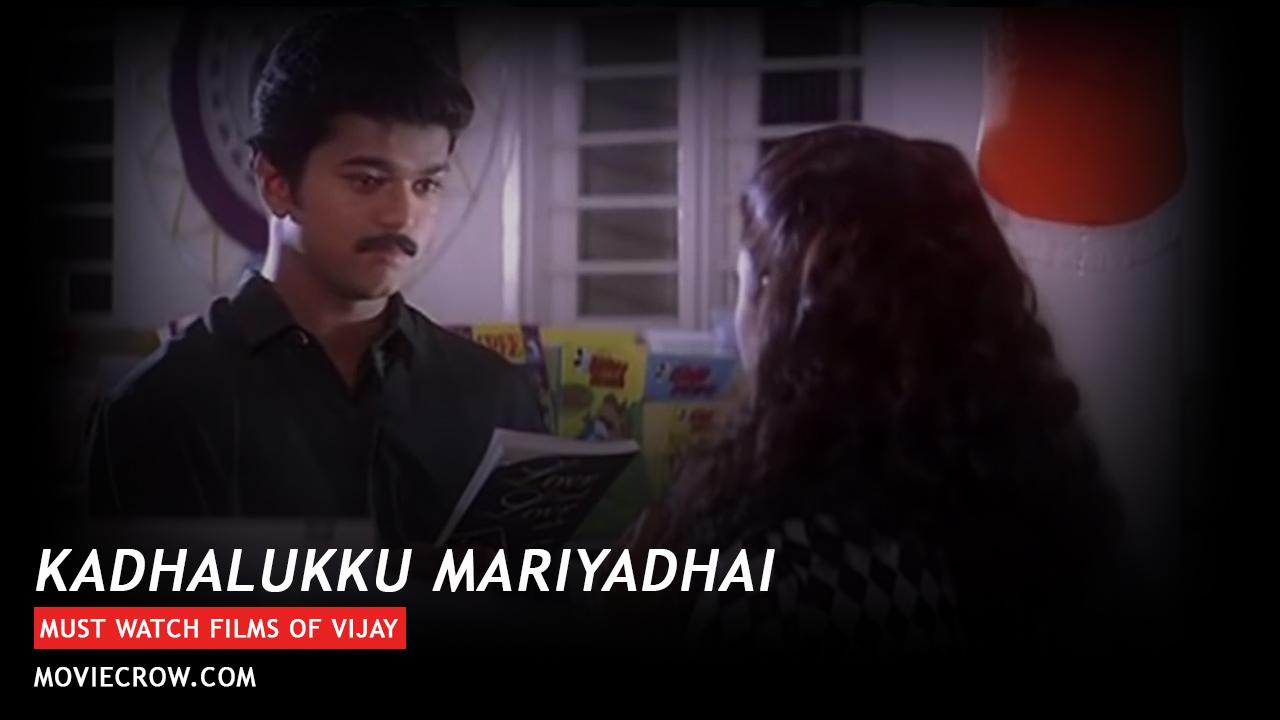 A film that won Vijay the Tamil Nadu State Film award for Best actor, Kadhaluku Mariyadhai saw Vijay showcase a calm yet impactful performance. From a hopeless romantic to a daring youth to a person who gives up his love for family, the shades portrayed by the actor makes for a soothing watch in this love cum family drama. Ilaiyaraja's songs worked wonders and the fact that Vijay sang in the maestro's tune is a testimony to the fact that Vijay's singing repertoire isn't a mere gimmick to woo fans but this man does have a certain strong music sense.
Kushi (2000):
---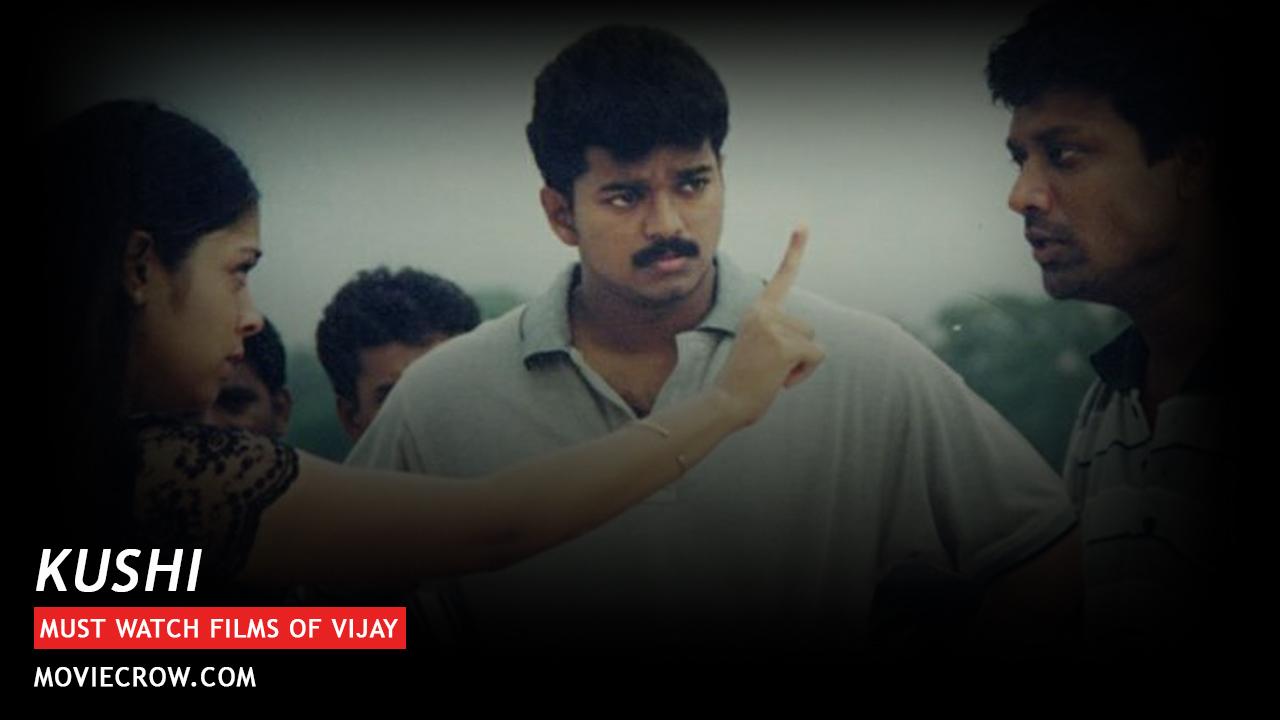 "Mottu ondru malarnthida marukkum,
Muttum thendral thottu thottu thirakkum,
Athu malarin tholviyaa
Illai kaatrin vetriyaa?"
(A bud that refuses to bloom is slowly transformed to a flower by the wind that touches it every now and then. Does this mean the flower has lost or the wind has won?), goes the lyrics of a song from this film which also summarizes Kushi's story.
Vijay and Jyothika's protrayal of two people who are destined to be together but are forever engaged in a tug of ego clash, coupled with elements like songs (Deva), comedy (Vivek), cameo (Shilpa Shetty) and direction (SJ Suryah) makes this film the most entertaining watch in this list. The film went on to be remade into multiple languages. This is one of those films that showcases Vijay at his jolly best and throws light on the type of performer he actually is. In other words this is his home turf.
Ghilli (2004):
---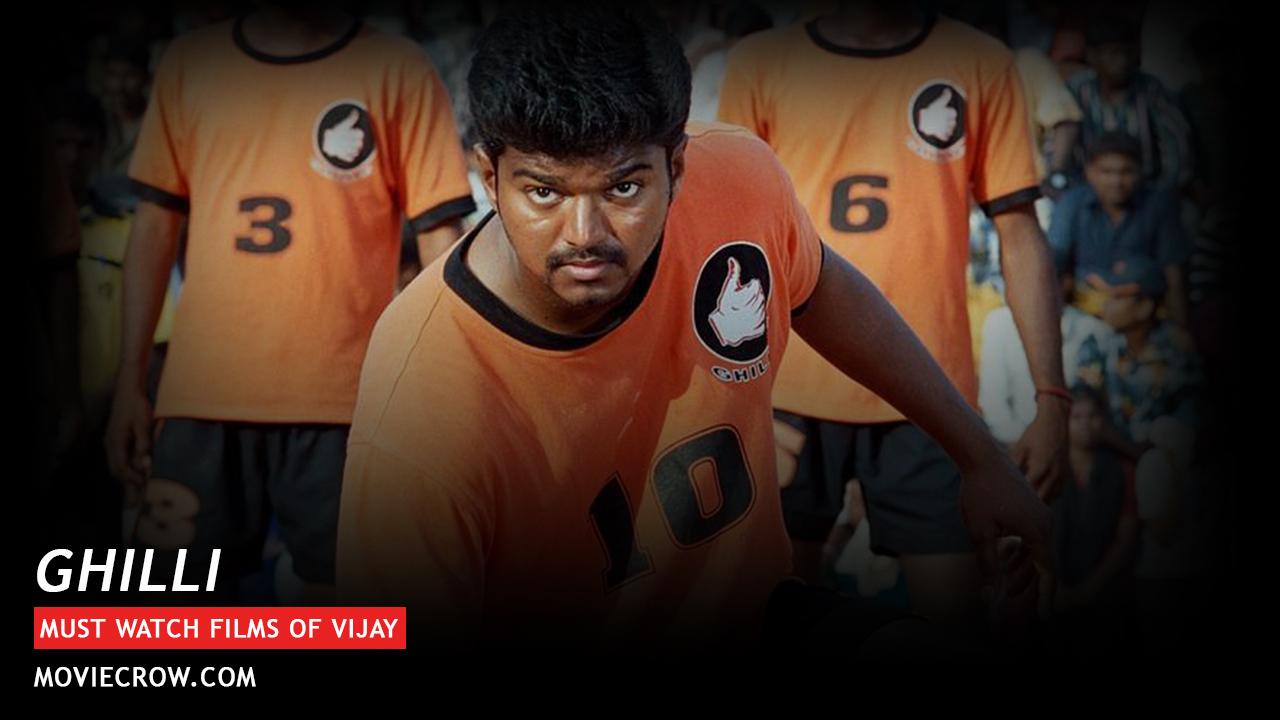 Vijay who was known as a romantic hero till then shifted gears to the full commercial route with this film, which later went on to become a trend-setting movie in his career. The very famous 'Appadi Podu' song (a nation-wide known Tamil number besides Kolaveri Di) is a part of this film, which saw Vijay portray a playful youth ambitious about Kabbadi, who ends up earning the wrath of a powerful villain after he incidentally saves a girl eyed by the villain. This is easily one of Vijay's best performances and a typical example of what a star (as against an actor) can bring to the table in a well made masala film. The film also firmly established Vijay's prowess in delivering comedy.
Pokkiri (2007):
---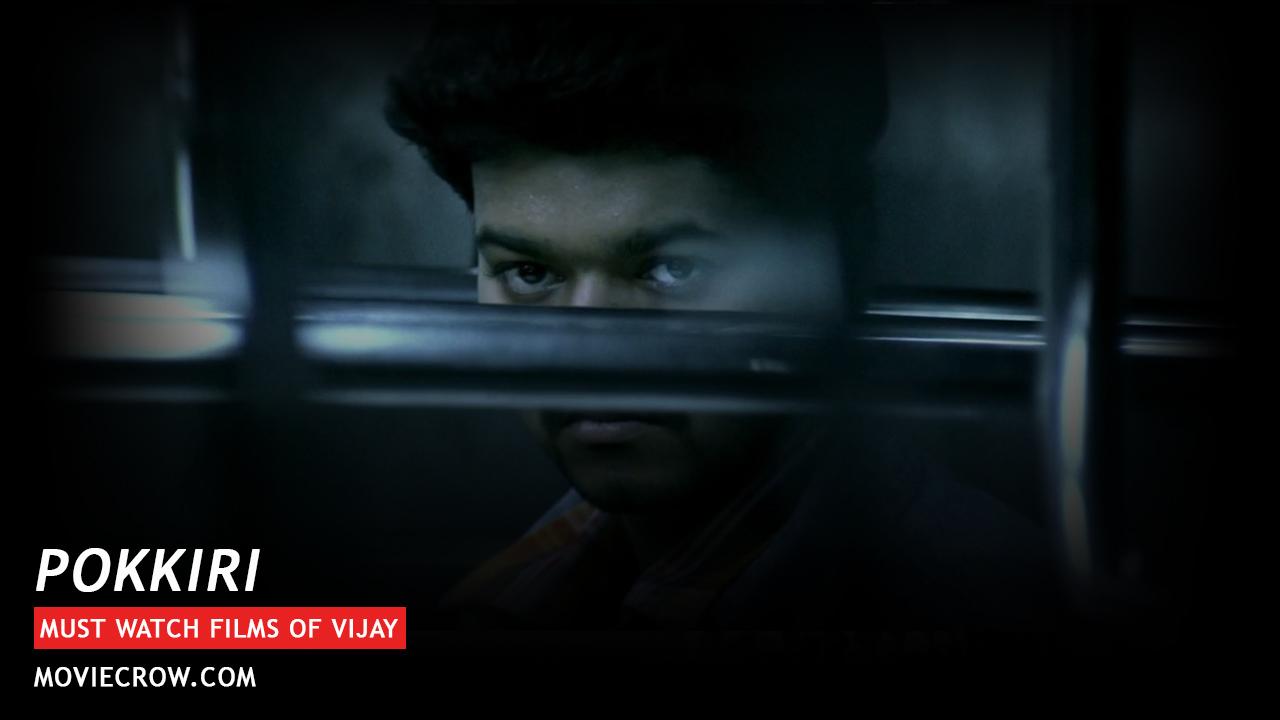 The commercial trend set for Vijay by Ghilli, saw an upgrade with the Prabhu Deva directed Pokkiri. Then be it the stylish numbers or the action scenes or the twist of Vijay being an undercover agent, Pokkiri was an entertaining thriller in every possible way. There is some criticism that Vijay imitated Mahesh Babu's performance from the original Telugu version. But Vijay has done his share of remakes and all of them have been in his style. So this must have been a conscious decision keeping mind the nature of the character. This is one of those potboilers that works every time you watch it despite knowing the big reveal in the climax.
Nanban (2012):
---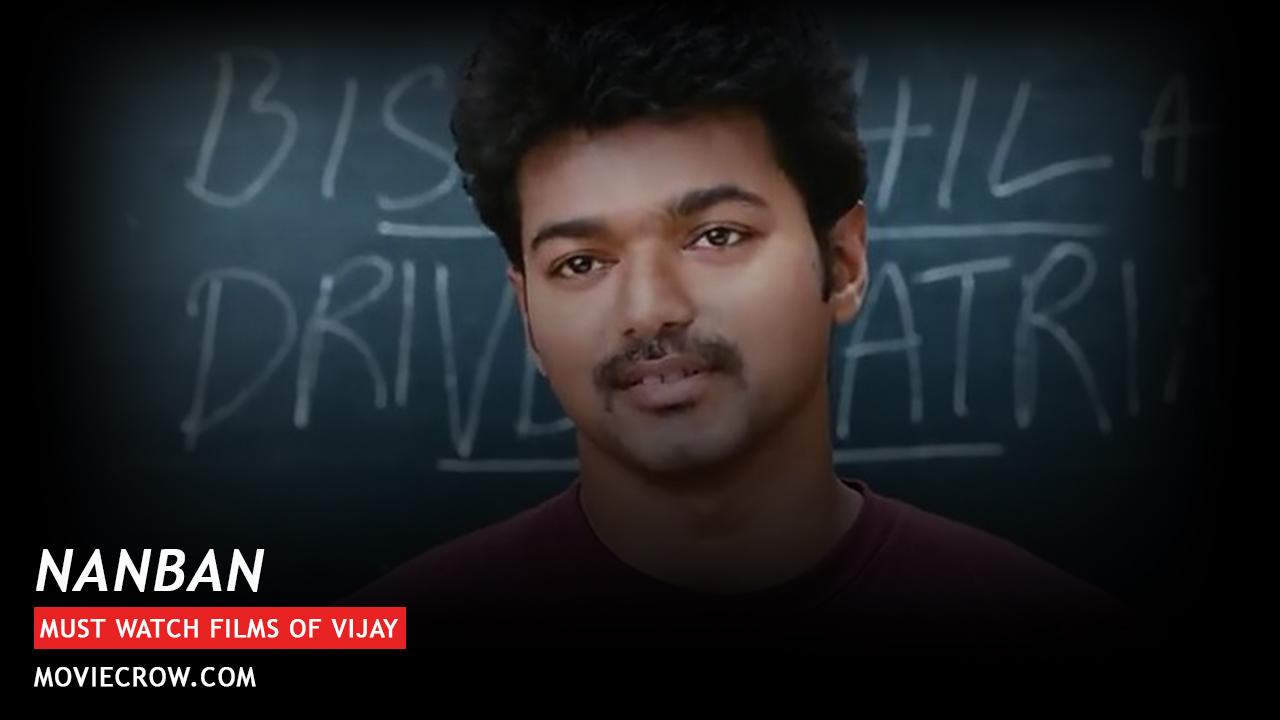 Despite being the remake of a highly successful Hindi film which had captivated the non-Hindi audience as well with a performer like Aamir Khan at the forefront, Nanban surprised everyone by retaining the entertainment value, as did Vijay with his portrayal of Panchavan Parivendan. Also at a time when Vijay was nitpicking content-backed films, Nanban ended up being one of the success stories along that path. The film is a reminder that Vijay can shed his action hero image if needed and steal the limelight as a performer if he actually wants to.
Thuppakki (2012):
---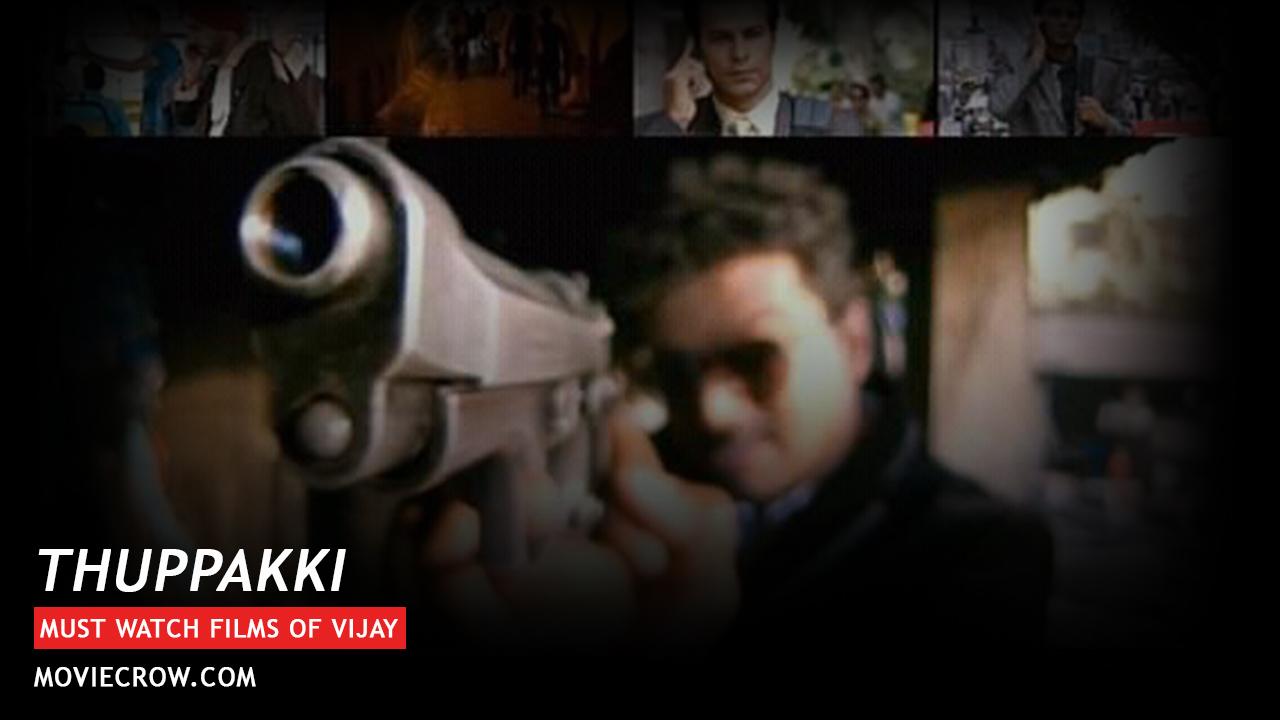 A movie that leans towards Vijay's top 3, Thuppakki brought out the subtle acting from Vijay one got to see in films like Kadhaluku Mariyadhai. Except this time, he was portraying a strategic & cool-headed army officer who saves a city from the looming threat of terrorists with almost no trace of evidence. The punchline 'I'm Waiting' which has found its own place in Tamil pop-culture references was first used in this A.R. Murgadoss directorial. This is one movie where it is difficult to nitpick any drawbacks. The romance and comedy portions might be intrusive to a section of the audience but to the director's credit these scenes are pretty good as standalones and this smartly packaged actioner is bound to age well. Given how the movie is treated like a typical Hollywood actioner with some brains, this should be the most accessible Vijay movie to audience all over the world.
Kaththi (2014):
---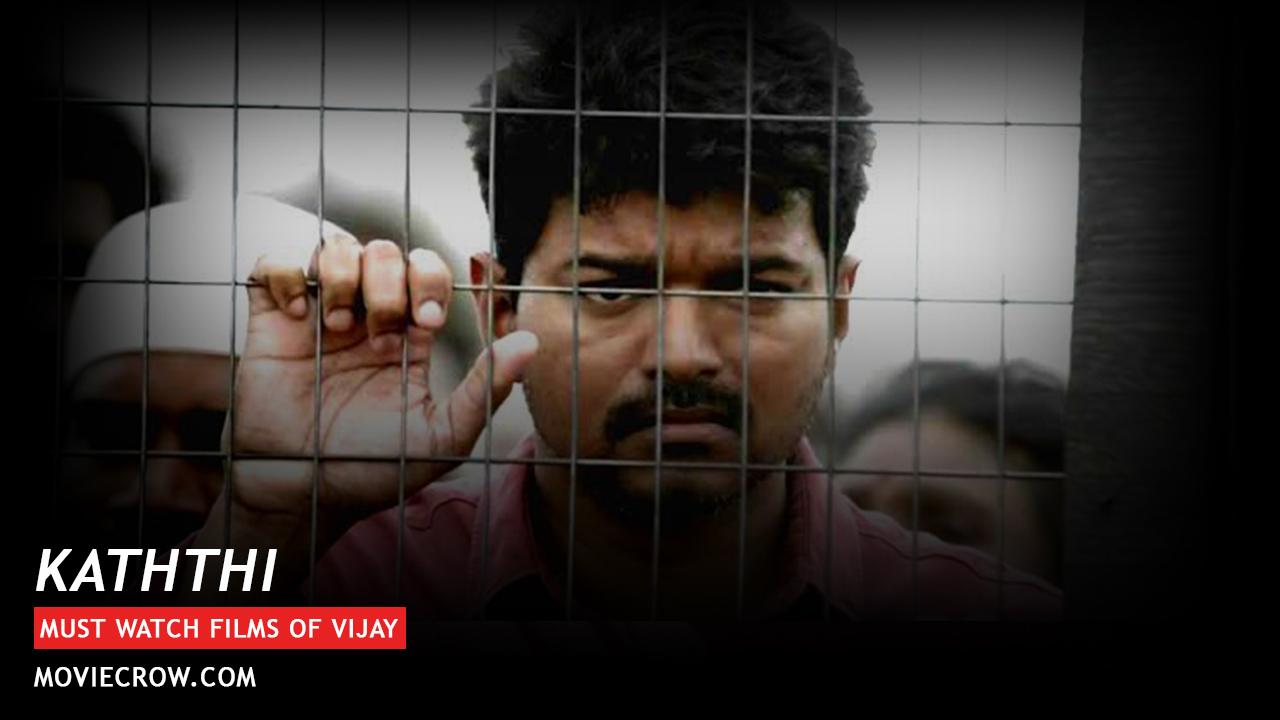 One of the very few films which sees Vijay playing more than one role, Kaththi was probably the first film of the actor, where a social message formed the major theme. After embracing romance and action for years, Vijay entered a people-aware zone with this film which was an A.R. Murugadoss directorial. Anirudh's score for the movie was another major highlight. Most action heroes refrain from breaking down on screen but Vijay as Jeevanandham nailed the act in one impactful scene in the film. This wasn't a territory that even his fans expected him to venture into but he came out with flying colors. to begin with !
Also Check:
---
Evolution of Ilayathalapathy Vijay to Thalapathy Vijay