The director of public health and preventive medicine announced on November 18, 2021 that only those who have been vaccinated with atleast one dose against COVID-19, will be allowed in public places like movie theaters. With multiplex screens in Chennai beginning to follow this preventive measure already, Maanaadu producer Suresh Kamatchi has lashed out at the decision.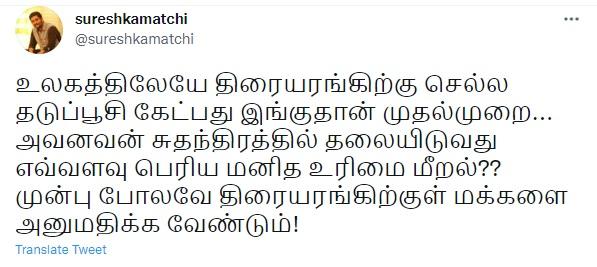 "This is the first time in the world that people are being asked to get vaccinated for going to theaters. How big of a human rights violation is it to interfere with an individual's freedom? People should be let into theaters as before!", the producer wrote over the new state government rule.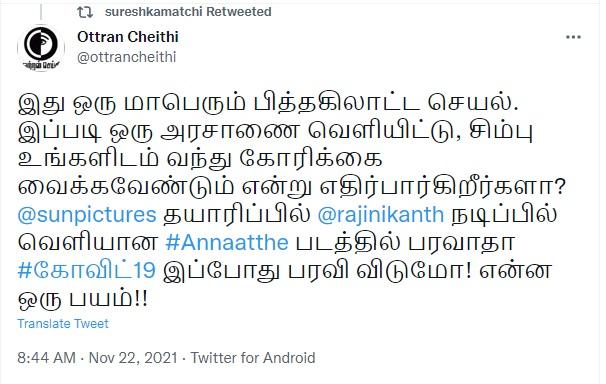 Suresh Kamatchi also re-tweeted a tweet that read, "This is hugely fraudulent action. By releasing a government order like this, are you expecting Simbu to come to you and make a personal request? Does the COVID which didn't spread during the release of Sun Pictures produced Annaatthe, has higher chances of spreading now! What a fear!!"
Maanaadu starring Silambarasan TR in the lead was scheduled to release during Diwali alongside Annaatthe but it was pushed to November 25 at the last minute. While exact reasons remain unknown, T Rajendhar, STR's father had stated at that time that his son was being sent death threats to not release Maanaadu.