When Crazy Mohan made word-play humorous in Tamil movies!
---
Humorist and stage cum film actor Crazy Mohan may have passed but as Kamal Haasan rightly said, his legacy lives through the movies he left behind. Known for his word play and frequent use of puns, some of Crazy Mohan's best works came through his collaboration with Kamal Haasan and here, we look back at a select few, some of which enjoy the 'cult status' and some often remembered through pop-culture references.
Michael Madhana Kama Rajan (1990):
---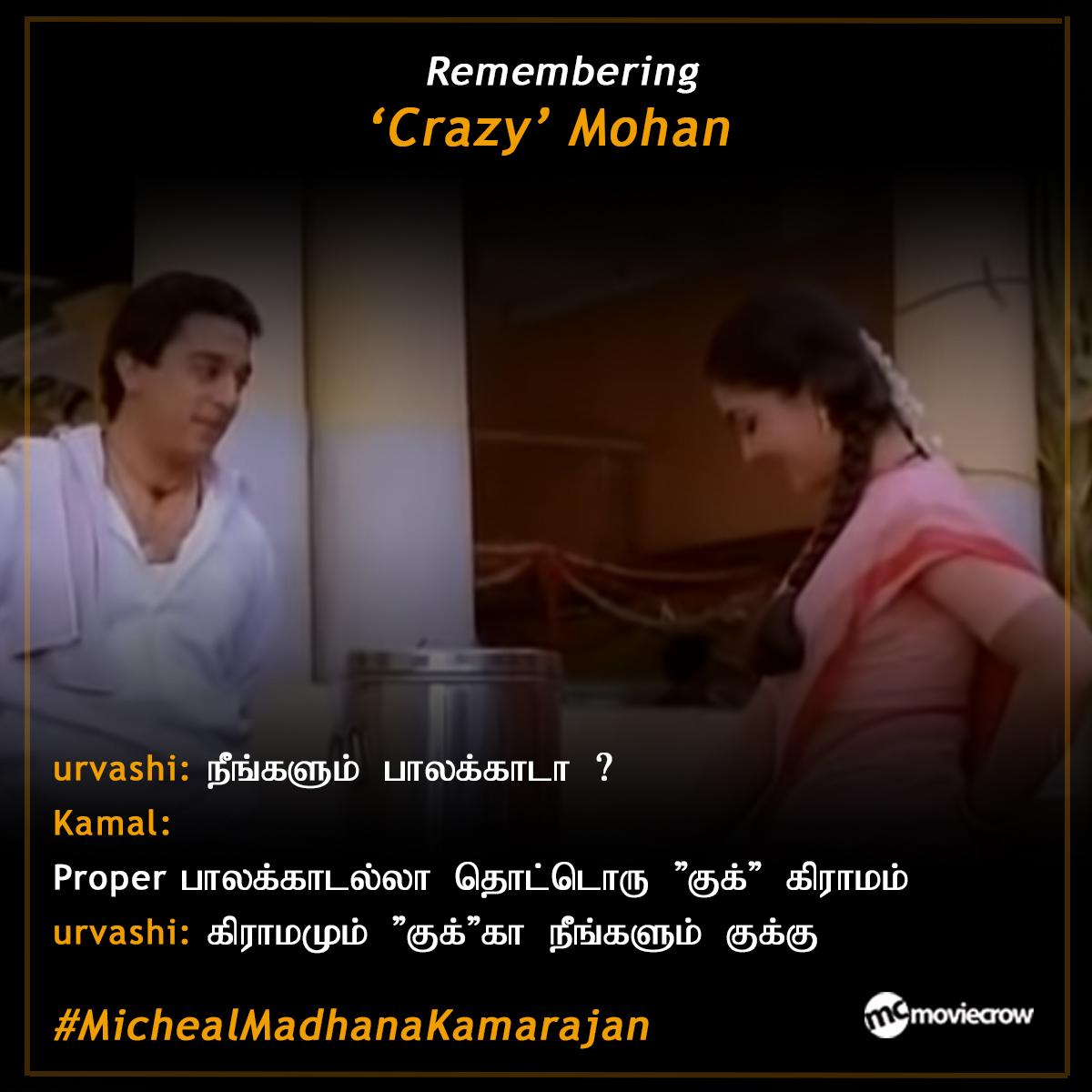 One of Crazy Mohan's earlier works, the film is still remembered for the dialogue exchages between Kameshwaran, one of the four Kamals in the movie and his love interest Urvashi. Crazy's dialogues are also praised till date for bringing out Kamal's versatility, for he portrayed quadruplets in the movie, each hailing from a different background.
Sathileelavathi (1995):
---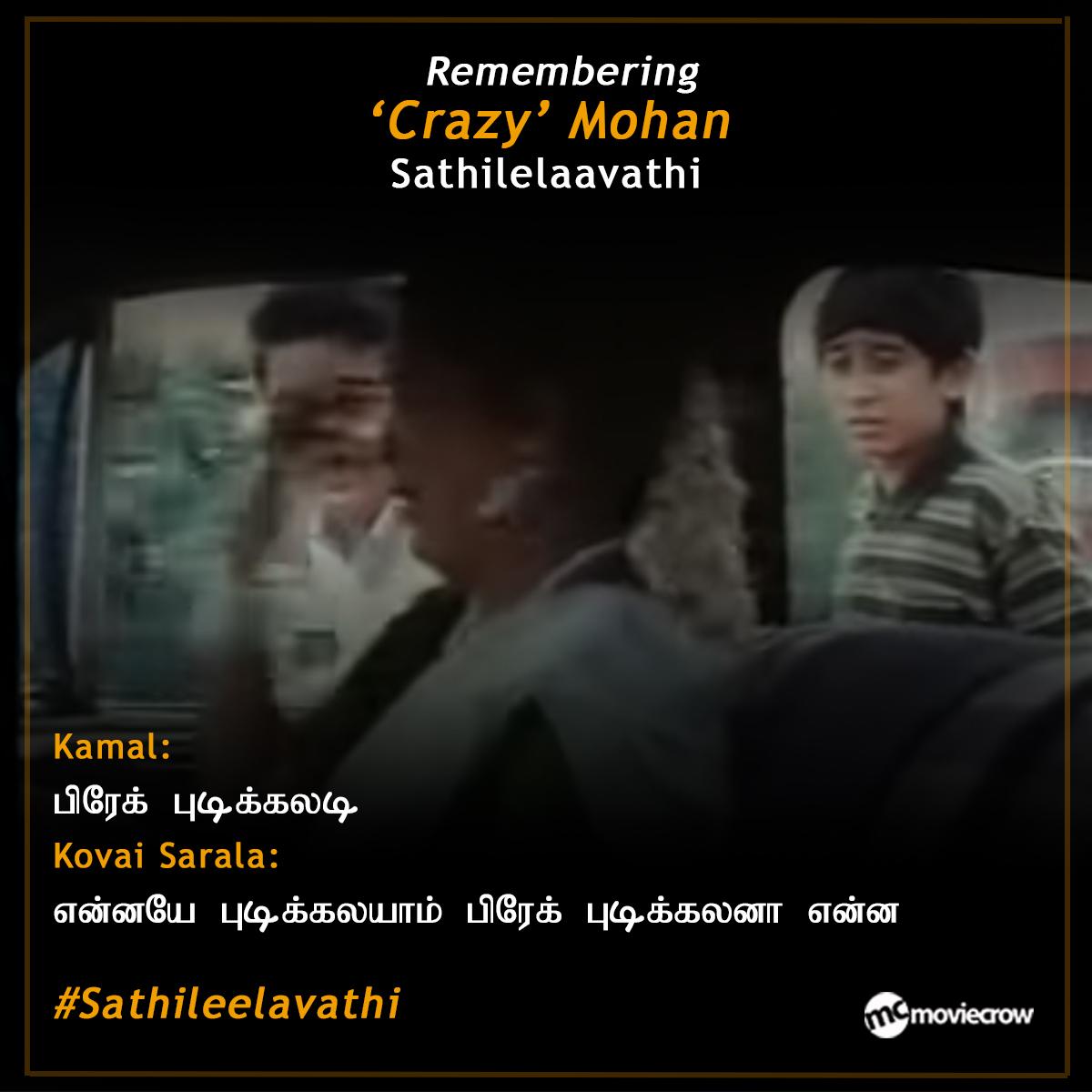 A film that is remembered even today for it iconic climax scene that involved a Kongu Tamil speaking Kamal trying to alert his upset of a brake-failure in her car, Sathileelavathi was a memorable film in Crazy Mohan's career.
Kaadhala Kaadhala (1998):
---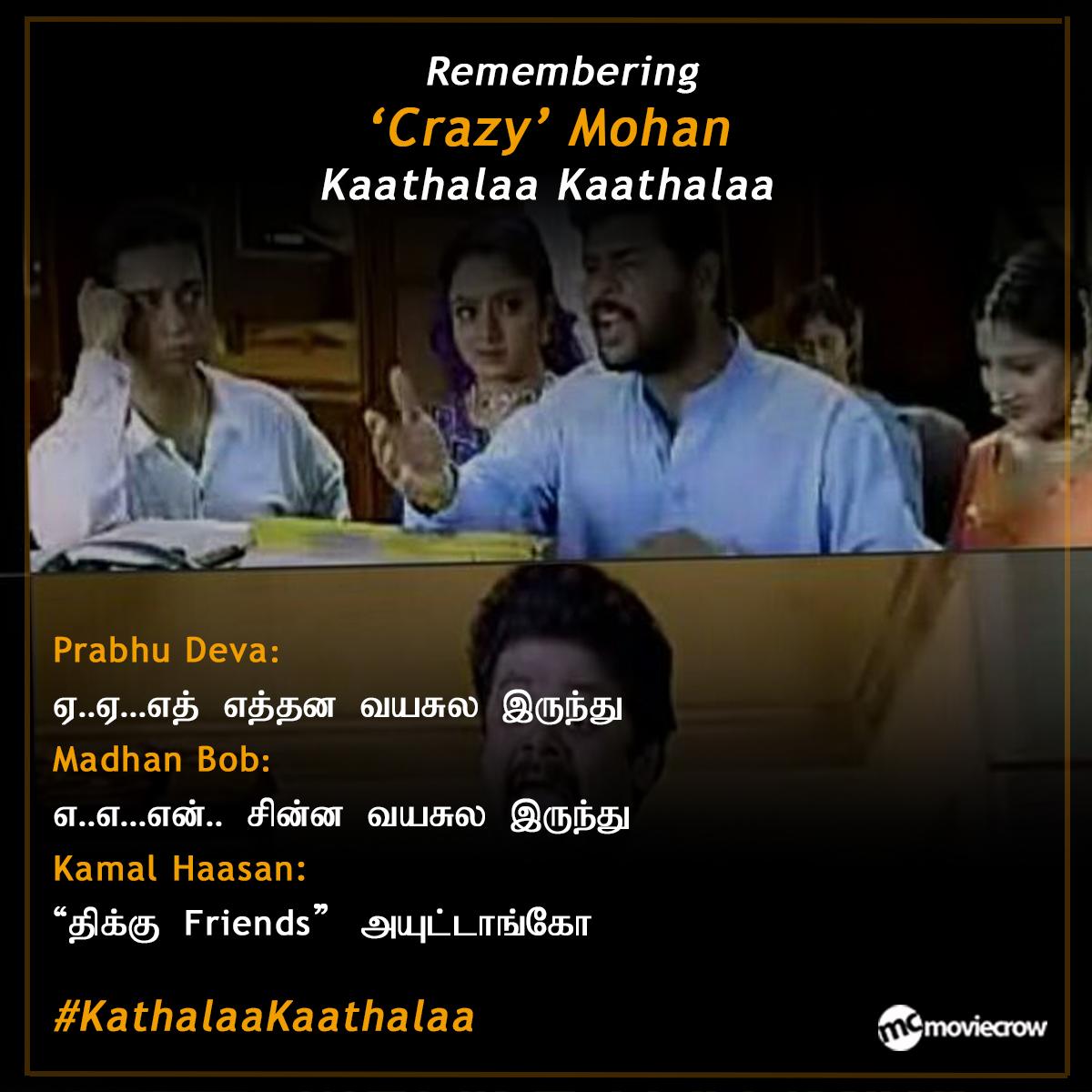 'Case of Mistaken identity' was a cake-walk for Crazy Mohan and Kaadhala Kaadhala was one of the best films of his that portrayed the same. In addition to providing dialogues, Crazy Mohan also made an appearance in this film as the assistant to 'Ananda Vikatanandha'.
Chinna Vaathiyar (1995)
---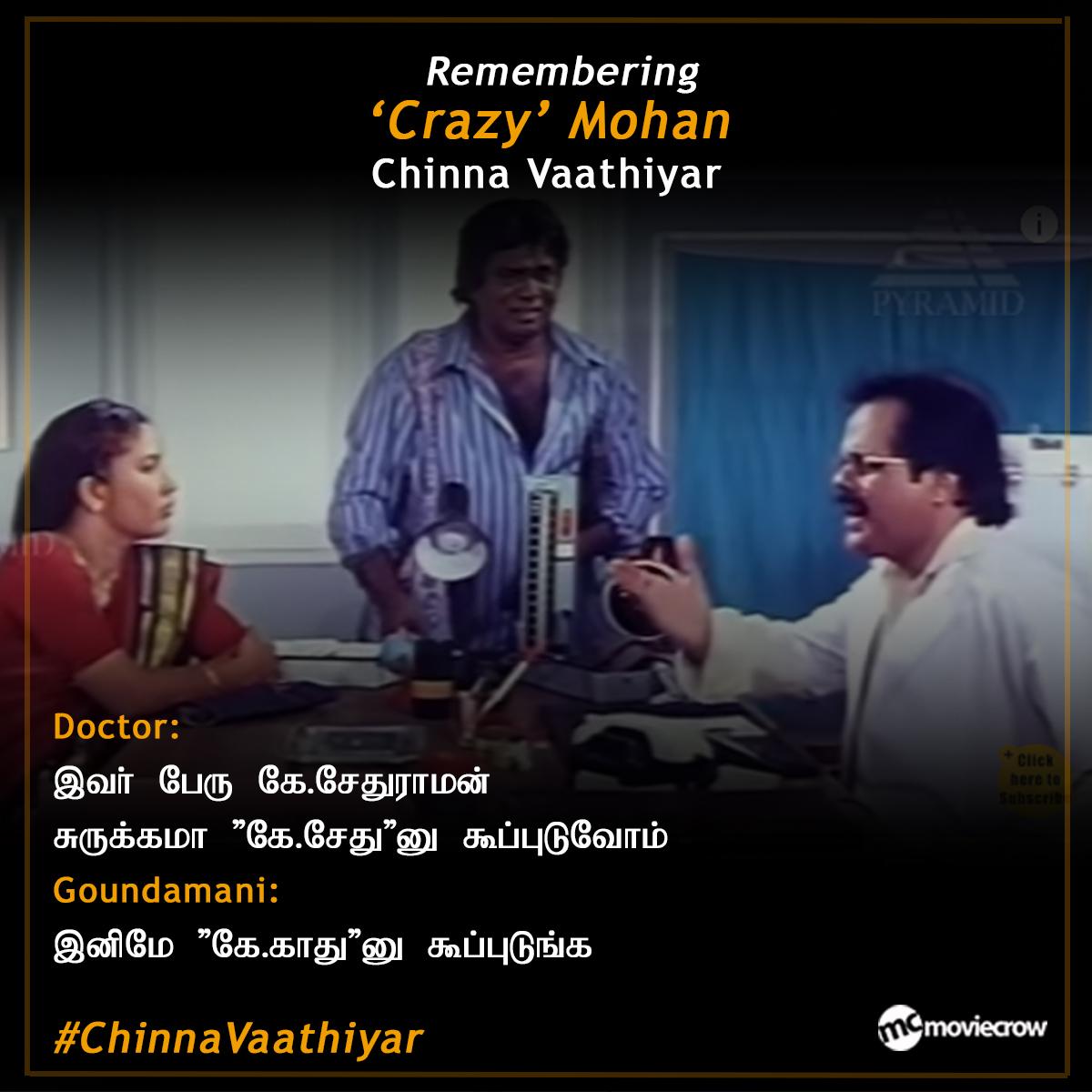 Crazy Mohan's pen which was accustomed to writing for niche audience took a different curve in 1995 when he penned dialogues for Goundamani and Senthil in a film called Chinna Vathiyar. The movie unlike expected did well in terms of comedy and is remembered till date for the Goundamani scenes involving a hearing impaired Kovai Sarala and her equally disabled father .
Avvai Shanmugi (1996):
---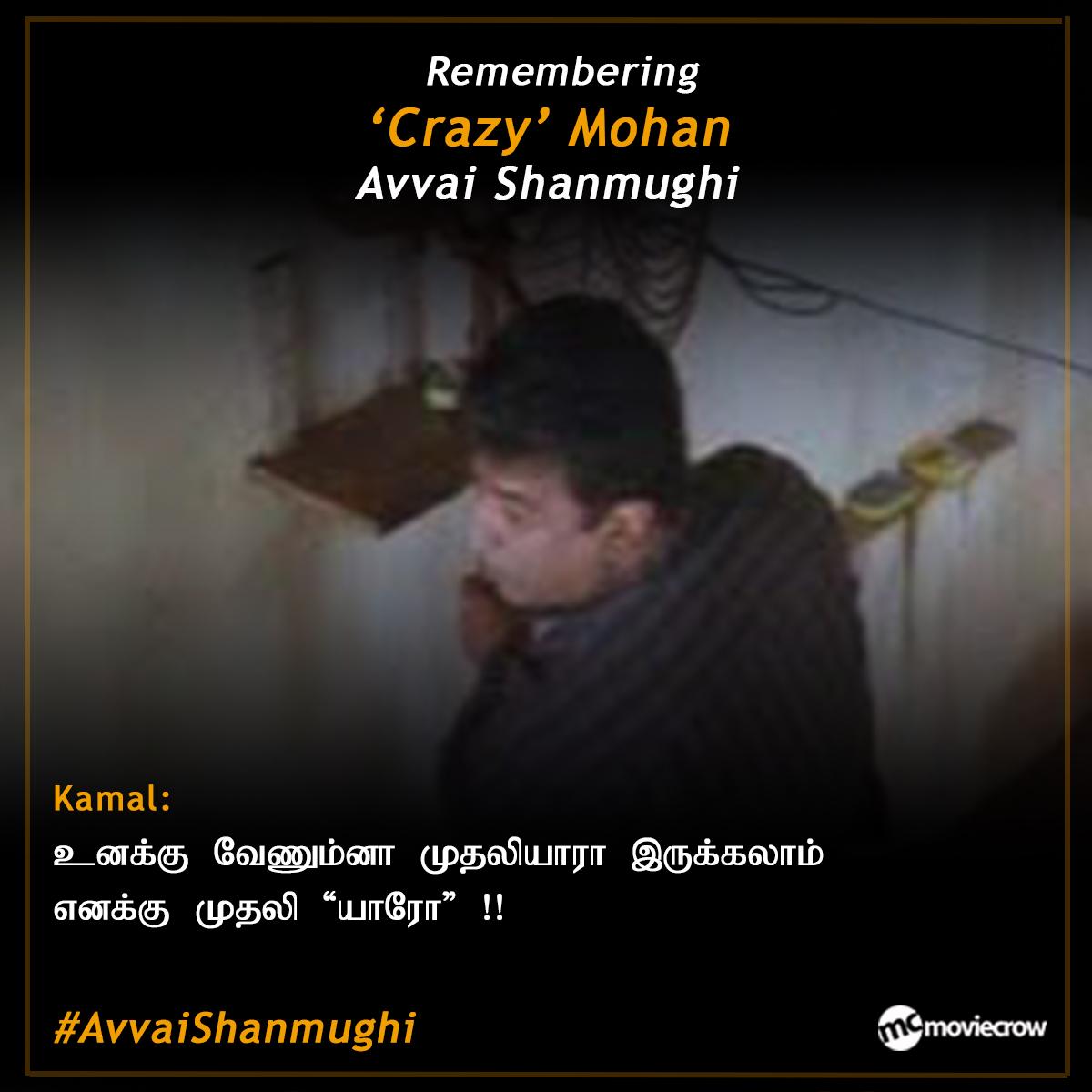 A film that immediately brings to memory Mani Vannan's portrayal of Mudhaliyaar that tries to woo Kamal's cross-dressed titular character, Nagesh as the drunk Joseph who tries to milk Kamal's predicament and Delhi Ganesh trying to get to the bottom of it all, Crazy mohan hit a home run with his dialogues for this one.
Thenali (2000):
---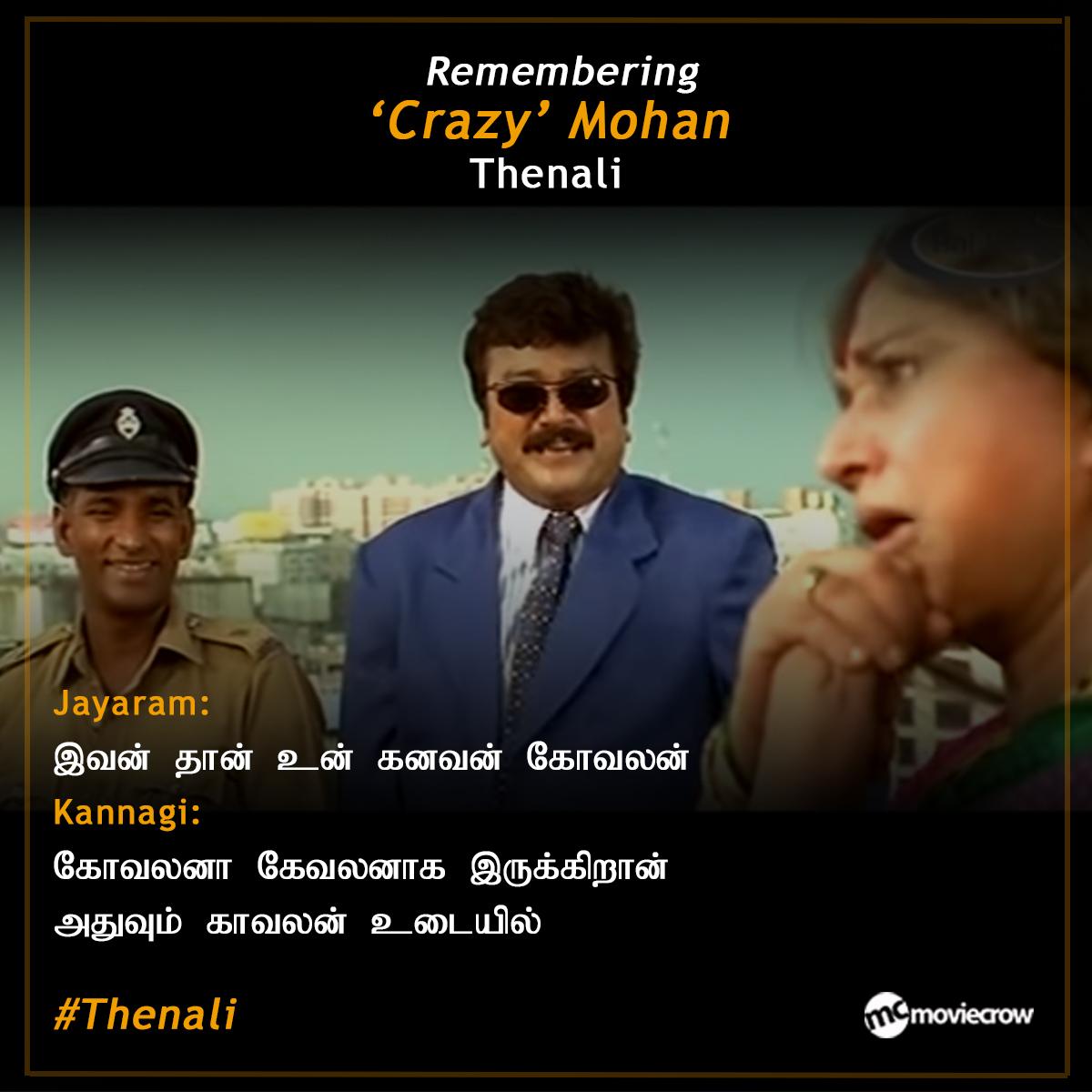 Kamal's performance in the movie may have overshadowed some clever comic puns of Crazy Mohans', but that doesn't stop us from remembering some laugh-inducing lines like "Kovalana? Kevalamaha irukiran adhuvum kavalan udayil!" (The lady in the intro scene), "Saambalaakaporen, Kailash, nee inimel en kaila ash" (Delhi Ganesh's wrath for Jayaram), "Thenali Bayandhaankoli dhaan, Aana Avan Bayandhaana Orrrukae Kolli" (descriptive of Kamal's destructive nature in the film.)
Pachathanthiram (2002):
---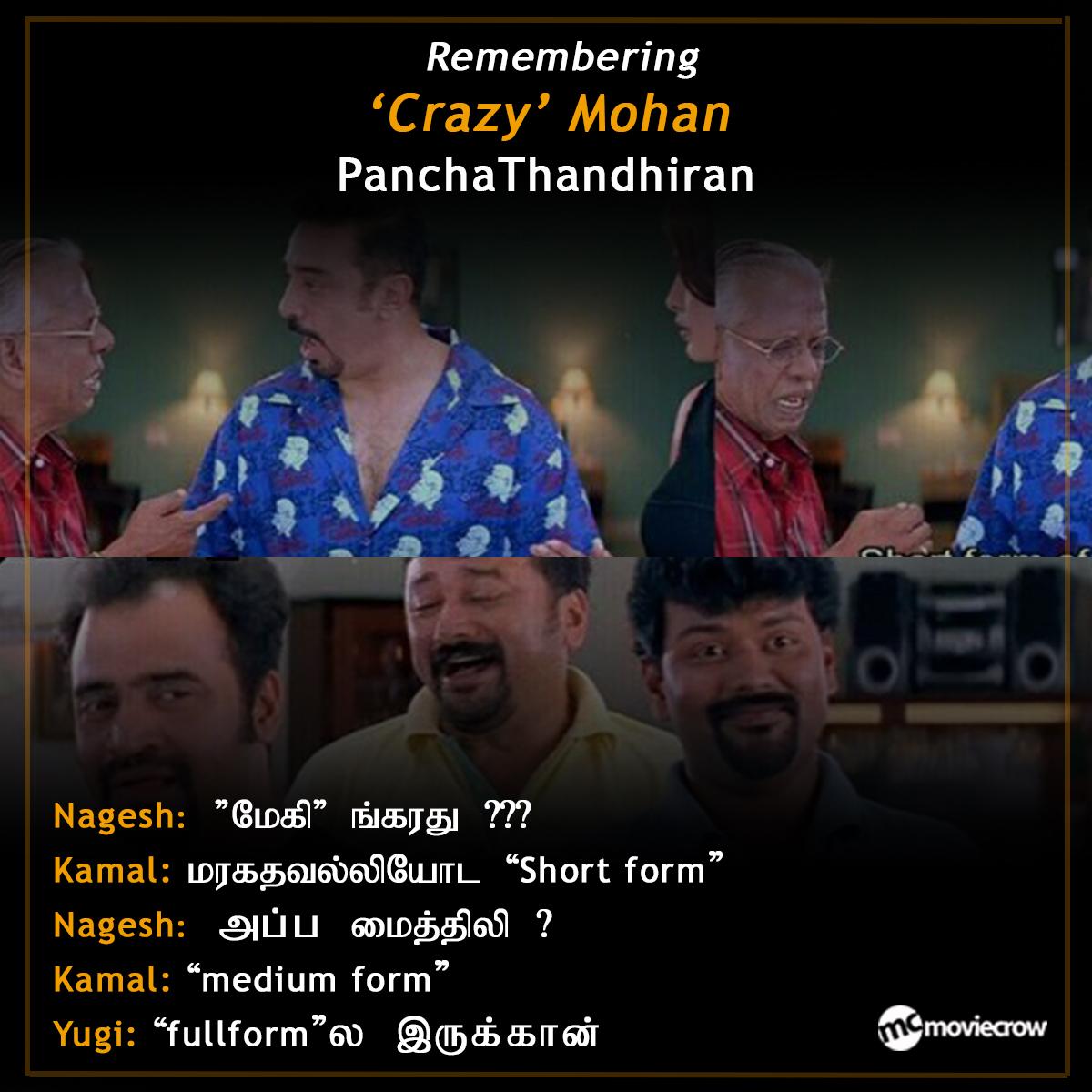 A movie where most of the dialogues were said to have been made instinctively or on the spot, the film was probably a benchmark for situational comedy. The wordplay on "Mythili alias Maragathavalli alias Maggi" and "My brother co-barathar" are a few examples of what stood out in this light hearted ensemble comedy.
Vasool Raja MBBS (2004):
---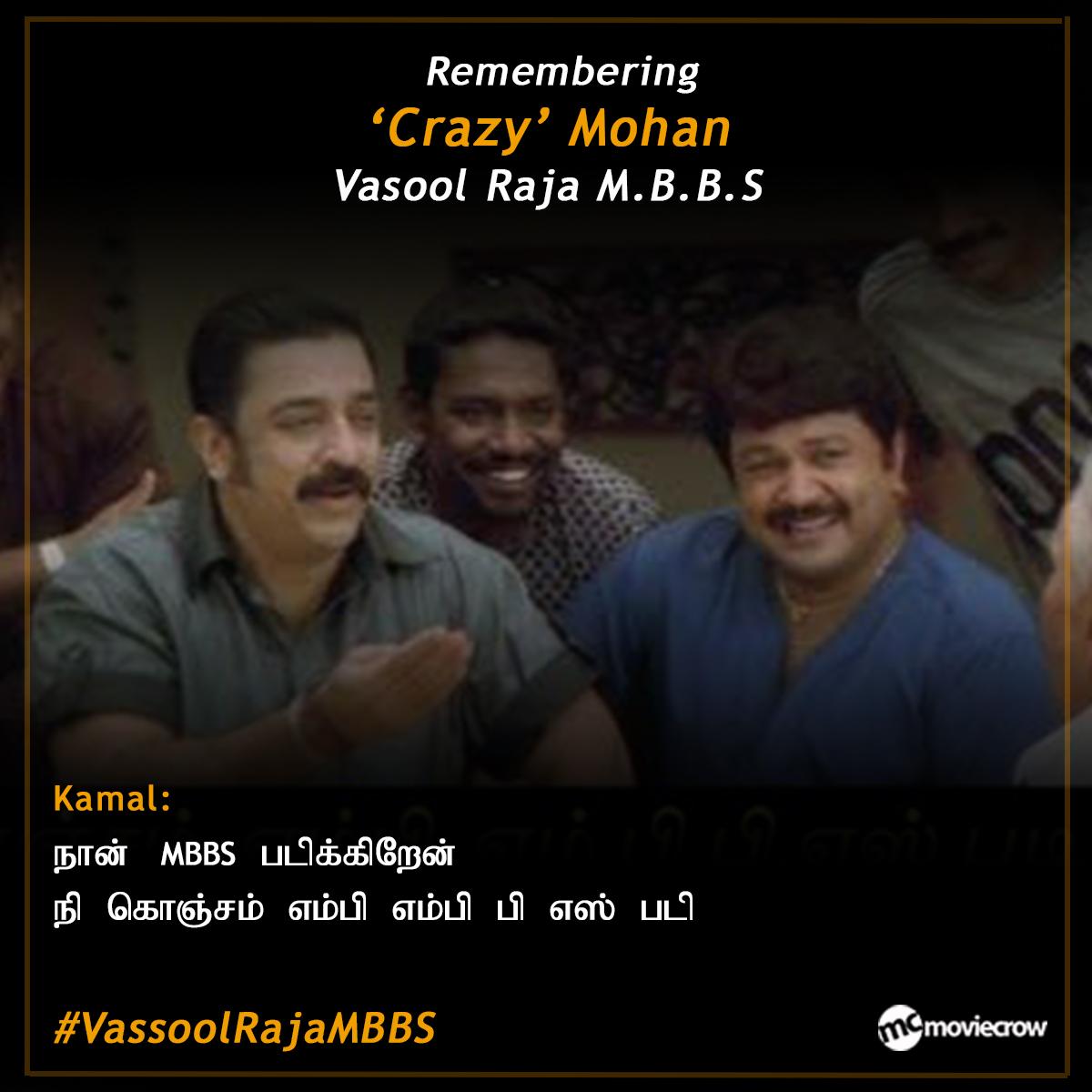 Crazy Mohan's portryal of Dr. Margabandhu in this film was as good as the dialogues he wrote in the film, some gems of which include "You've got the highest score, how many 6s, how many 4s?", "Ivanga Ellarum orae family ah (referring to his 'supposed patients'..Neenga dhaan family doctor aachae", "Kattrorukku 'cell-um" (referring to the cell phone that aided in copying) idamellam sirappu".
Pammal K Sambandham (2002) :
---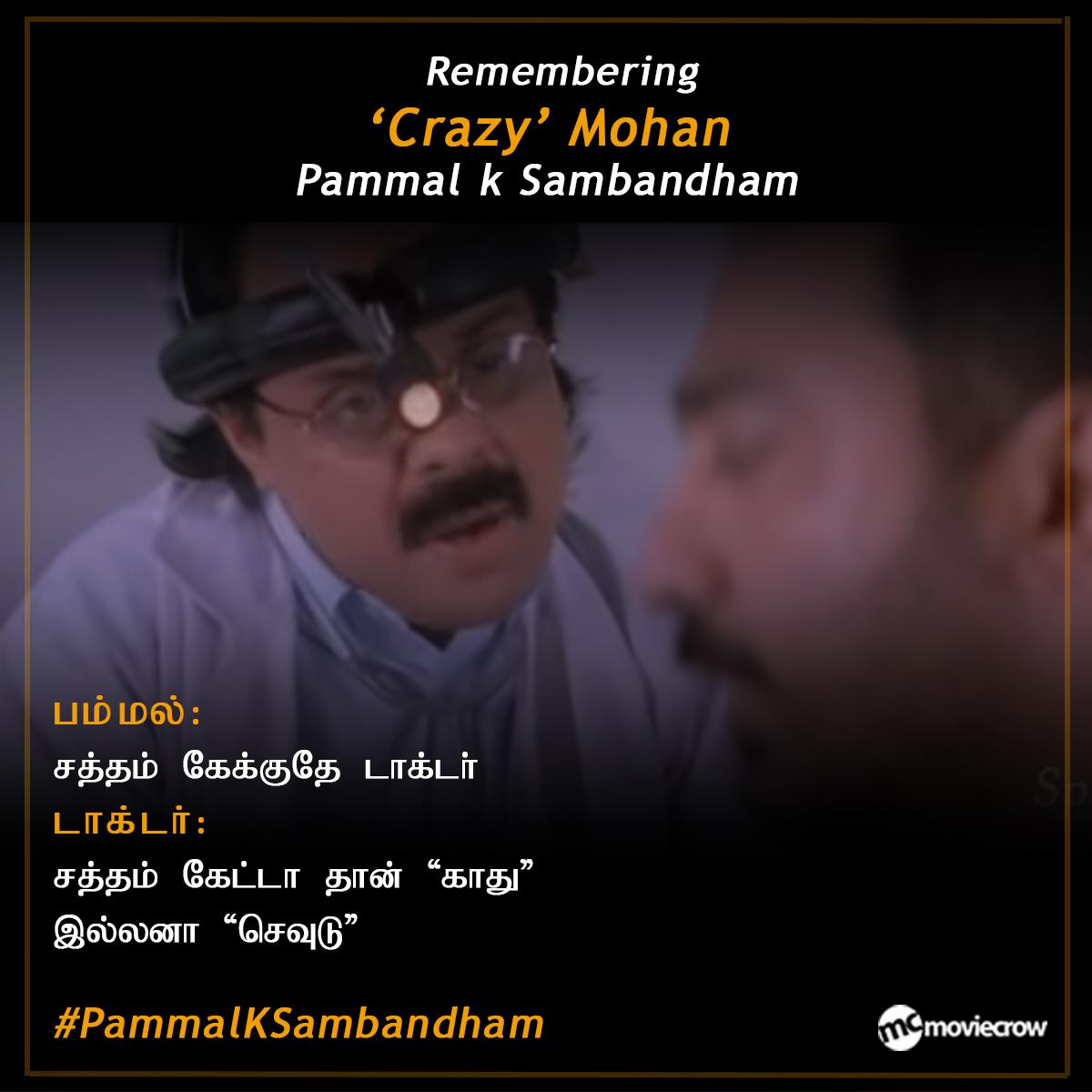 This movie featured lines like "Savadikala anne, Saavu Adi Adichutaanga nu sonnen" meaning they did not kill, but they beat black and blue. and "Illuthutu Iluthutu poran ya" (referrring to eloping) "summa irundha payyana adicha illuthu iluthutu dhaan ya povaan" (reference to limping) were some of the fine examples of Crazy Mohan's ability to churn puns from the most unlikely of situations.