Up until 11 AM on Thursday, the state of Tamil Nadu recorded a 30.62 per cent polling, in what was essentially a day for about 6 Crore voters to exercise their franchise. Reportedly

Chennai Central polled the minimum with a 22.89% turnout though Tamil cine celebrities showed up in large to register their vote dutifully, in the ongoing phase 2 of the Lok Sabha Elections.
Actor-politicos Rajinikanth, Kamal Haasan, Vijay Kanth were seen casting their vote and other industry stars who were spotted at the voters' queue were Vijay, Ajith, Dhanush, Suriay, Jyothika, Karthi among others.
Images of these actors from the polling can be seen below:
#Thala #Ajith & #ShaliniAjith came to Thiruvanmiyur Election booth to cast their vote. #LokSabhaElections2019 #TNElection2019 pic.twitter.com/3qCQ0twrkp

— Assault Sethu (@AssaultSethuuu) April 18, 2019
Done with the most important duty #TNElection2019 . Did you vote ? pic.twitter.com/lgDL6HkX8z

— Santhosh Narayanan (@Music_Santhosh) April 18, 2019
• @Suriya_offl Anna , #Jyotika Anni , @Karthi_Offl na, #Ranjini Anni today morning to cast their vote #TNElection2019 #LokSabhaElections2019 pic.twitter.com/pJSQVZWV1m

— Surya Fans Club™ (@SuriyaFansClub) April 18, 2019
#ThalapathyVijay arrives to cast his vote..!! #TNElection2019 😊 pic.twitter.com/FzoxPaJ7i7

— AGS Cinemas (@agscinemasOffl) April 18, 2019
Tamil Nadu: Actor turned politician Rajinikanth casts his vote at the polling station in Stella Maris College, in Chennai Central parliamentary constituency. #LokSabhaElections2019 pic.twitter.com/NfD3llN4J1

— ANI (@ANI) April 18, 2019
Actress #Trisha casting her vote at Alwarpet. @trishtrashers #ElectionsWithPT pic.twitter.com/XOoz2MuR3c

— Ponmanaselvan S (@IamSellvah) April 18, 2019
Our beloved @dhanushkraja sir at alwarpet vote pooth center #DhanushianAaru #Dhanush pic.twitter.com/F9GjdUK515

— Dhanushian (@iamdhanushian) April 18, 2019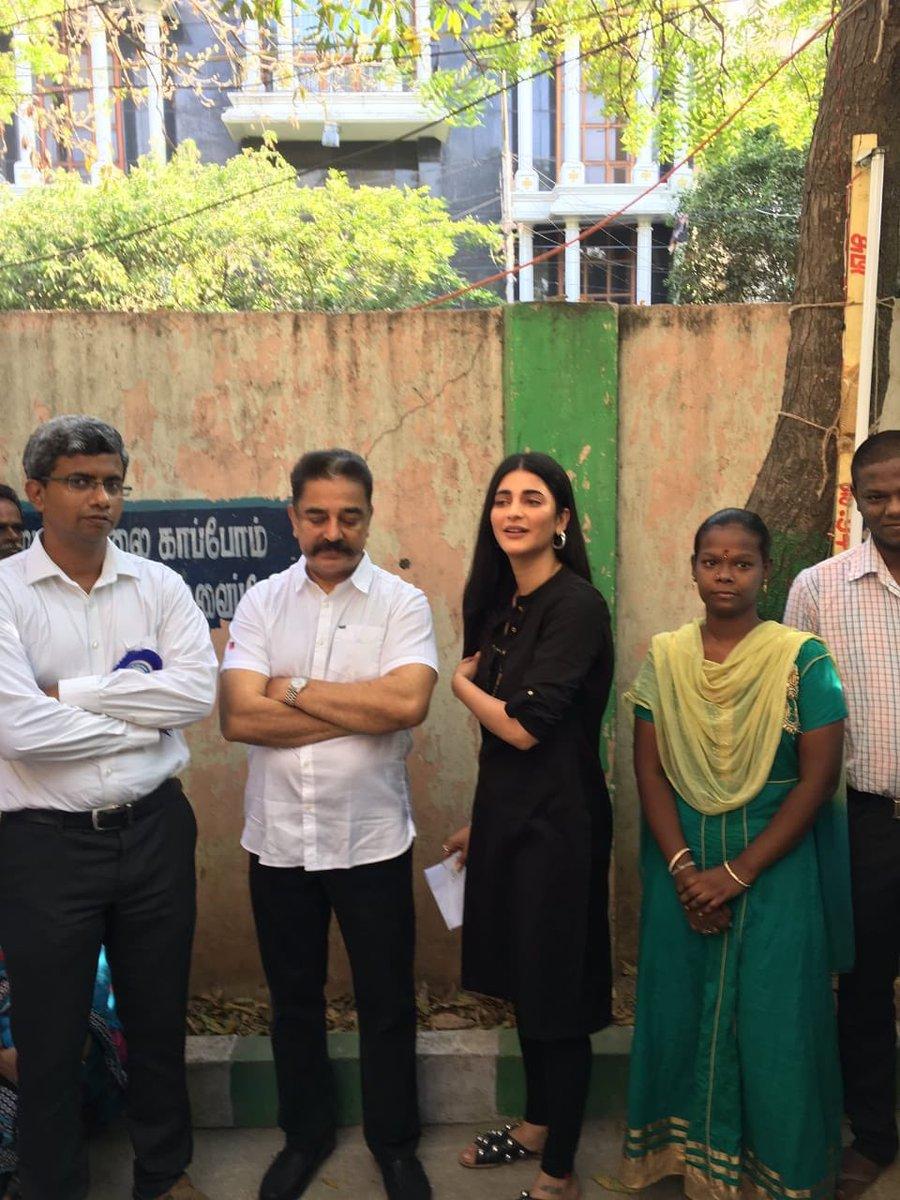 #LokSabhaEelctions2019 #KadamaiDone #EveryVoteCounts pic.twitter.com/qoZPjOWWtb

— soundarya rajnikanth (@soundaryaarajni) April 18, 2019
Done ✅ have you ? pic.twitter.com/vnj9UiYu8Y

— A.R.Rahman (@arrahman) April 18, 2019