Rajinikanth's Kaala seems to be doing extremely well in the overseas market and at the end of the opening weekend, it is estimated to have made $6.19 million (gross) in the collective overseas regions. While USA and Australia look pretty good for the film, other regions including the UK have not been upto expectations.
Good openings in USA and Australia
---
Rajinikanth always has had record breaking openings in the US and Kaala has been no different. After making $1,625,614 in its opening weekend across 324 locations in the USA, the movie has now set a record at the Australian box office as well. Among the 2018 Indian movie releases, Kaala is the second highest opening weekend grosser after Padmaavat and is at 4th position of all time opening weekend collections by Tamil films.



Mediocre Opening in UK
---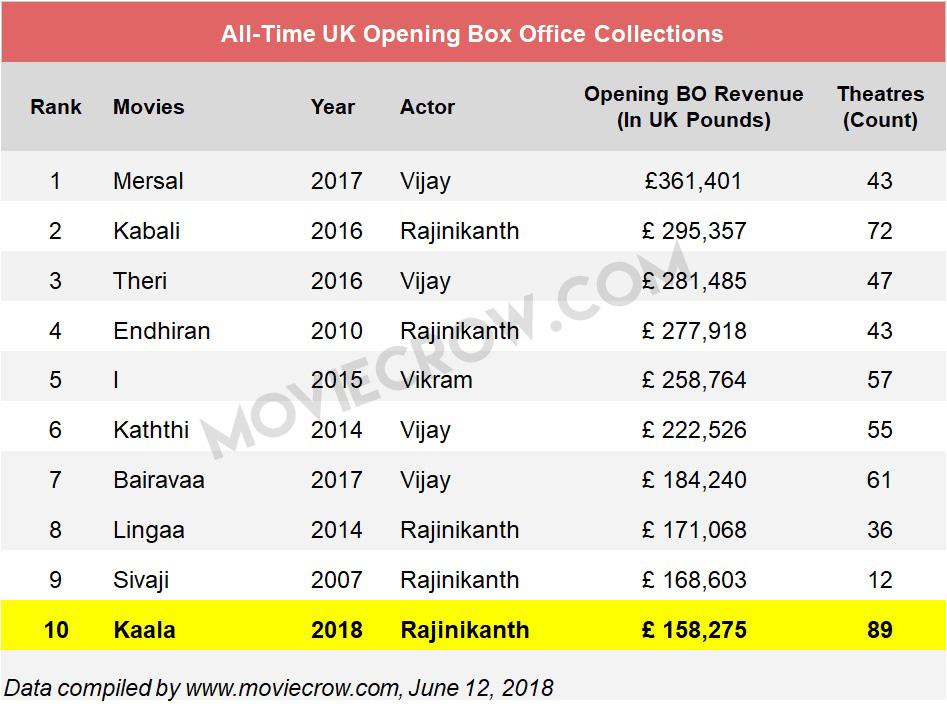 In UK, despite releasing in 89+ screens, Kaala has grossed £158,275, making the average per theater to £1779, which is extremely low for a Rajinikanth film.
Though 5 spots of the opening weekend record table is occupied by Rajinikanth films, the UK region seems to work more favourable for Vijay films.
Other Countries
---
The estimated opening collections of Kaala in other overseas locations is listed as follows:
Singapore -

₹3.

2 crore
UAE & GCC -

₹

10 crore
France

- ₹65.48 lacs

Norway - ₹10.72 lacs