The battle of copyrights between SPB and Ilayaraja
---
Legendary singer SP Balasubrahmanyam shocked everyone over the weekend when he sent out a social media post admitting that he has been issued a legal notice from music scion Ilayaraja, over performing the latter's compositions in the former's ongoing musical tour SPB50. In addition to SPB, these notices were issued to the organizers of the concerts, management of the venues of these concerts and singers Chithra and Charan (SPB's son), who are currently touring in the US. SPB also added that going ahead (on the tour) he or his troupe would not be performing any of Ilayaraja's compositions, owing to the copyright law based on which the aforementioned notice was sent.
While this incident left most wondering as to what made longtime friends SPB and Ilayaraja resort to a legal tussle, it has also ended up opening the pandora box over copyright laws in the musical world. If one may recall, the battle of infringement and copyrights began a few years back, when the world of music was seeing an upsurge in the influx of composers and audio labels (Click here to read MovieCrow's piece on it). While even then the law stated that a song belonged to the musician who composed it, a lyricist who wrote it and a producer who invested in it, there was no mention whatsoever over the rights of a singer who lends his/her vocals to it.
The Right and Wrong
---
While many view Ilayaraja's legal notice as unwarranted (keeping in mind the personal and professional relationship he shares with SPB), it has also been justified (from a legal point of view) by various music experts. Here, we a look at some of them :
Madhan Karky (Lyricist)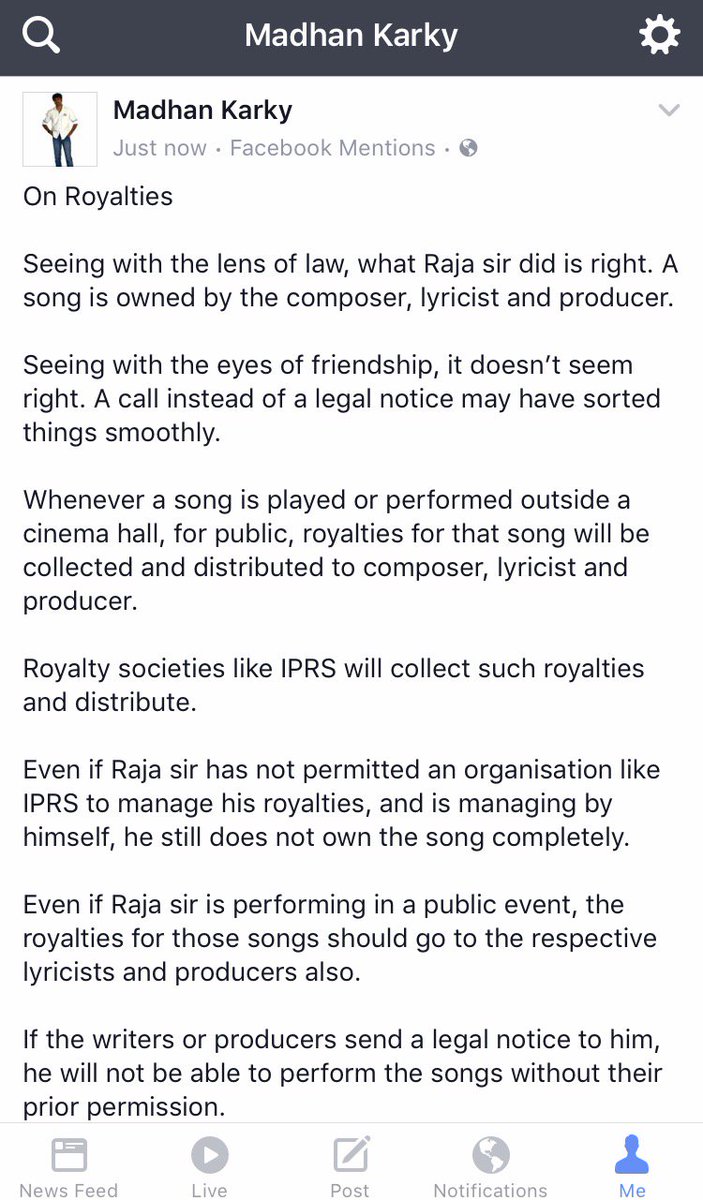 Singers perform in concerts and are remunerated for that. The present law does not share royalties to singers. They are fighting for it too. https://t.co/ip7KL95Lmg

— Madhan Karky (@madhankarky) March 19, 2017
Karthik Kumar (Actor / Stand Up Comedian)
In film music singers are last mile contributors. Rights are to be shared between composer & producer in ratios they deem fit. #Illaiyaraja

— Karthik Kumar (@evamkarthik) March 19, 2017
The value of #Illaiyaraja's music far exceeds the value of his actions. Everyone wants a piece of it - including himself. :)

— Karthik Kumar (@evamkarthik) March 19, 2017
My Gen takes for granted living thro #Illaiyaraja/ARR in our times, & from our parts. If we don't protect their IP in our time we lose...

— Karthik Kumar (@evamkarthik) March 19, 2017
Chinmayi Sripaada (Singer)
@GuitarBollywood He won a case in court. By law. That he owns the copyright to his creations.

— Chinmayi Sripaada (@Chinmayi) March 19, 2017
@GuitarBollywood Most lyricists and composers today dont think much of singers TBH.

— Chinmayi Sripaada (@Chinmayi) March 19, 2017
@GuitarBollywood that was a different era. Sigh.

— Chinmayi Sripaada (@Chinmayi) March 20, 2017
The
Clarification
---
As mentioned earlier, this issue over Intellectual Property (IP) has opened a plethora of questions as to where exactly do the singers stand in terms of royalties and what exactly would be the fate of reality shows, concerts and other means of commercial broadcasting of a song, going ahead. The statement from the patent committee of Ilayaraja's answers a few of these questions :
"...We have been taking steps for copyrights for the past 2 or 3 years. The legal notice is not meant for SPB alone. We tell everyone to take the required permission and sing. It is not applicable to those who conduct concerts in villages. The village singers sing songs for their livelihood. But some singers conduct concerts to earn great income. We ask our rights from those heavy income earners."
SPB 50 - The Show Goes On
---
While the debate over right and wrong of this whole episode continues, SPB on the other hand continued with his shows in the US sans Ilayaraja's compositions. The concert in San Jose, California particularly saw an intetesting coup when SPB sang Unakenna Mele Nindrai O Nandalala, a 1982 classic composition by MS Vishwanathan. The songs's last stanza coincidentally speaks of the test of friendship and SPB is said to have gotten emotional while singing it. Despite a loud cheer from the crowd, SPB Charan later clarified that the song had nothing to do with the ongoing scenario between his father and Ilayaraja.