Mani Ratnam directed Ponniyin Selvan: Part 1 is gearing up for a theatrical release on September 30, 2022 and over the weekend, the main star cast along with the film's director and music composer AR Rahman were spotted promoting the movie at Mumbai for the Hindi audience. During one of these events where Vikram, Aishwarya Rai Bachchan, Jayam Ravi, Karthi, Trisha, Mani Ratnam and AR Rahman were in attendance, a speech of actor Vikram's amplifying the Chola history for the unversed, caught the attention of many.
Unwinding with heavily loaded #PS1 team at #Mumbai Studio 😊 pic.twitter.com/tddYKBGS5O

— A.R.Rahman (@arrahman) September 25, 2022
PS1 is set in the 9th century Dravidian empire of the Cholas and is centered around Raja Raja Chola I [ played by Jayam Ravi] and his family. Raja Raja Chola I is a revered Tamil King and Kalki Krishnamurthy's novel on which PS1 is based, is a fictional reimagination of his real life stories and incidents.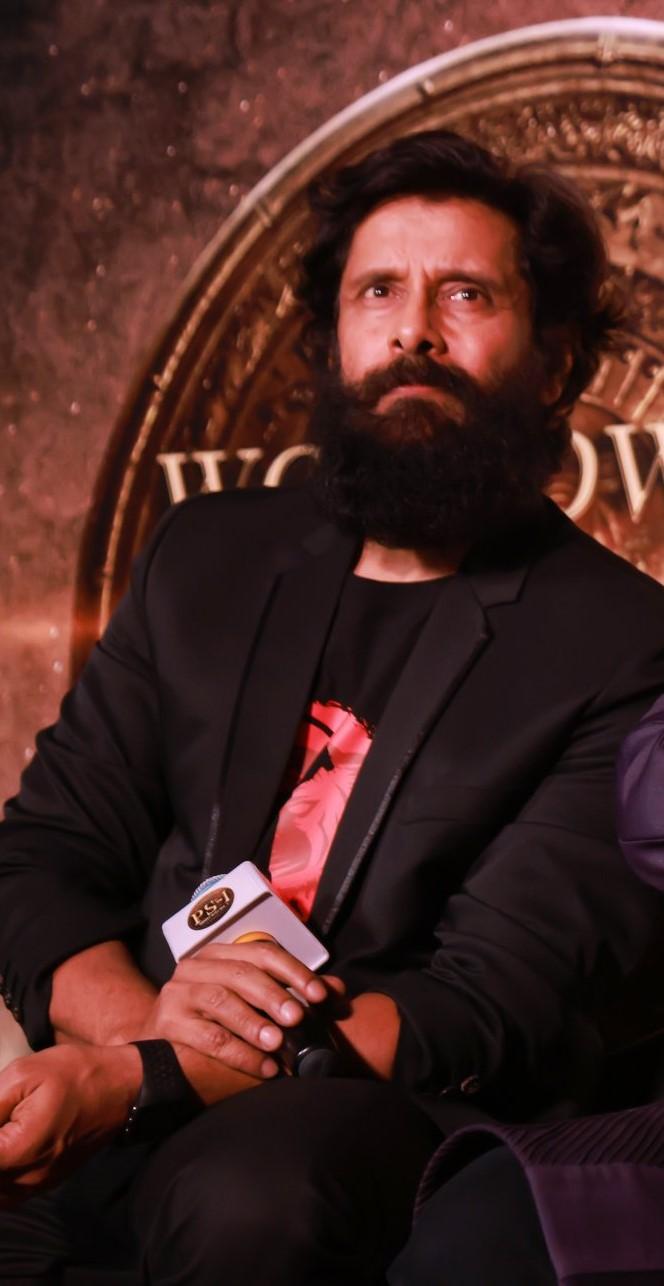 Vikram while commenting on what makes PS1 with its very obvious Tamil roots, lucrative to non-Tamil audience said,
"We all talk about the pyramids and how could they have possibly built it and how did they do it so many years ago. But do you know in India (where) we have so many temples (one of) the highest gopuram is in Tanjavur, which is where the Chola dynasty had happened and (pointing to Jayam Ravi) his role Raja Raja Cholan had built it..The top stone alone, its a single (monolithic) stone that weighs 80 tonnes...And how did they do it? Do we know that?

We go see the pyramids, we go see the leaning tower if pisa and someone said this very nicely. 'We are actually appreaciating a building that doesn't stand. It's actually falling over and (we go) wow lets take a picture, let's take a selfie, we are getting excited. But we have temples today that stand and they didn't use plaster..Without plaster it (the Brihadeeswara temple built by Raja Raja Cholan aka Ponniyin Selvan) has withstood six earthquakes.."
Vikram then proceeded to explain how the 80 ton monolithic stone was placed atop such a tall height, how the temple built with no plaster withstands earthquakes even today and said, "These are all the things we should know about. This particular King has built 5000 damns in his time and he made a water management ministry at that time (10th century). He's had elections, he's asked leaders to name cities after women, he's brought free hospitals, he used to give loans to help people give dignity instead of just throwing money (all rarities during 985 CE to 1014 CE)."
The actor explained why this Chola history is not just illustrious, but warrants celebration and appreciation by the whole of India. "We talk about superpowers today but in the 9th century (via the Cholas) we had the biggest maritime navy in the world. And it has travelled all the way to Bali, to Malaysia, we have sent them to China..You know what was the superpower doing then? America hadn't been discovered by Columbus till 500 years later."