The story of Ponniyin Selvan may not be new to the Tamil cine audience but PS1 is indeed the first movie the demographic is getting, based on the famous Tamil novel. Directed by Mani Ratnam, PS1 is first of the two-part movie releasing on September 30, 2022 in theaters. Since the movie is also coming out in Telugu, Malayalam, Kannada and Hindi languages, we decided to revisit the Ponniyin Selvan storyline and give a bit more detailed idea of what viewers got to see in the PS1 teaser and trailer.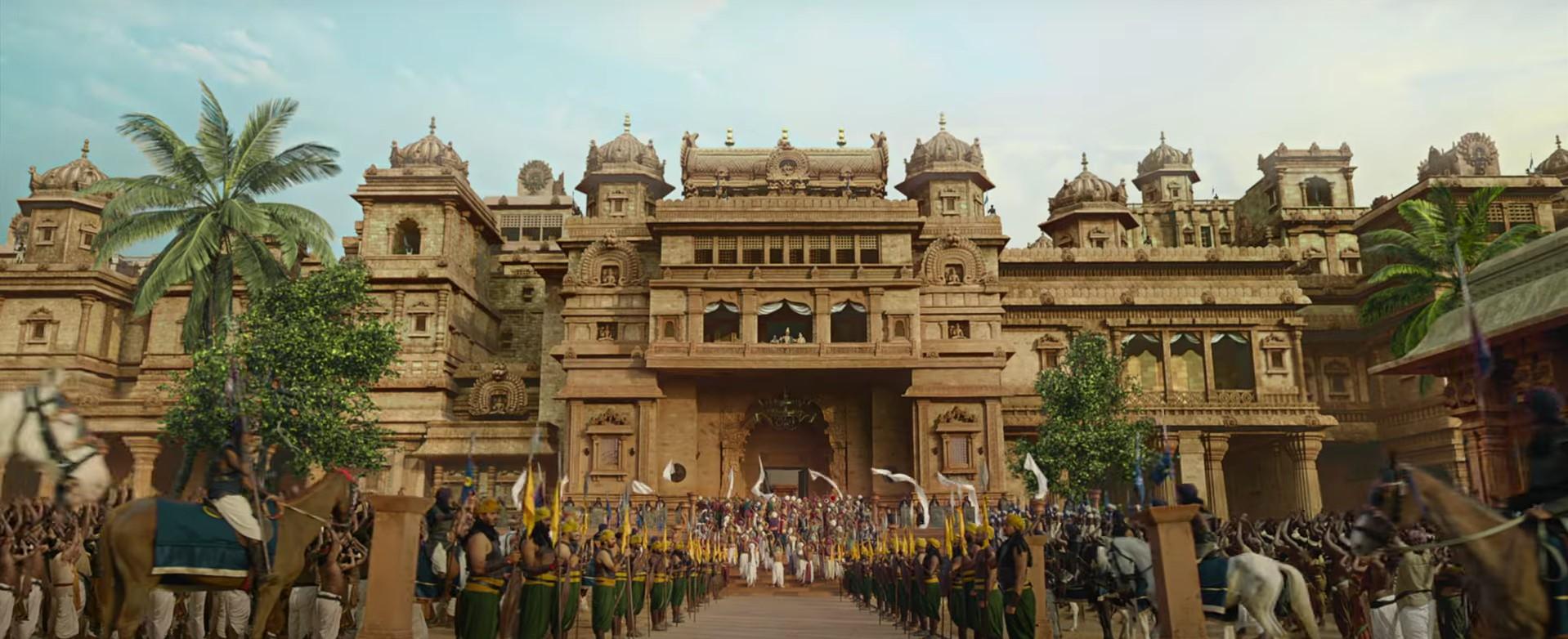 As the videos reveal, PS1 is set in the Chola era which is a real life royal dynasty that existed in what is today known as South India and Sri Lanka. Rajaraja Chola I aka Arunmozhi Varman aka Ponniyin Selvan (meaning son of Ponni) became a revered name among the Kings of this era and the story of Ponniyin Selvan is based on his early years and family. While the characters are a mix of real and fiction, the story was penned as a fiction by Kalki Krishnamurthy in the 1950s; His five-volume books went on to become one of the most famous scripts in Tamil literature.
Update: The movie PS-I showcases 969 AD of the Chola Empire where Pandya rebels take an oath to spill royal Chola blood, and the Chola chieftains (Sarath Kumar, Parthiepan) plan a mutiny under Nandini (Aishwarya Rai Bachchan)'s veiled tutelage. The story revolves around who will be the next King - the wild prince Aditha Karikalan (Chiyaan Vikram), the hermit prince Arunmozhi Varman (Jayam Ravi), their estranged uncle Madurantakan (actor Rahman) or the Pandya rebel Amarabujanga (Master Raghavan)?
Story, Characters - Background & Actors Playing Them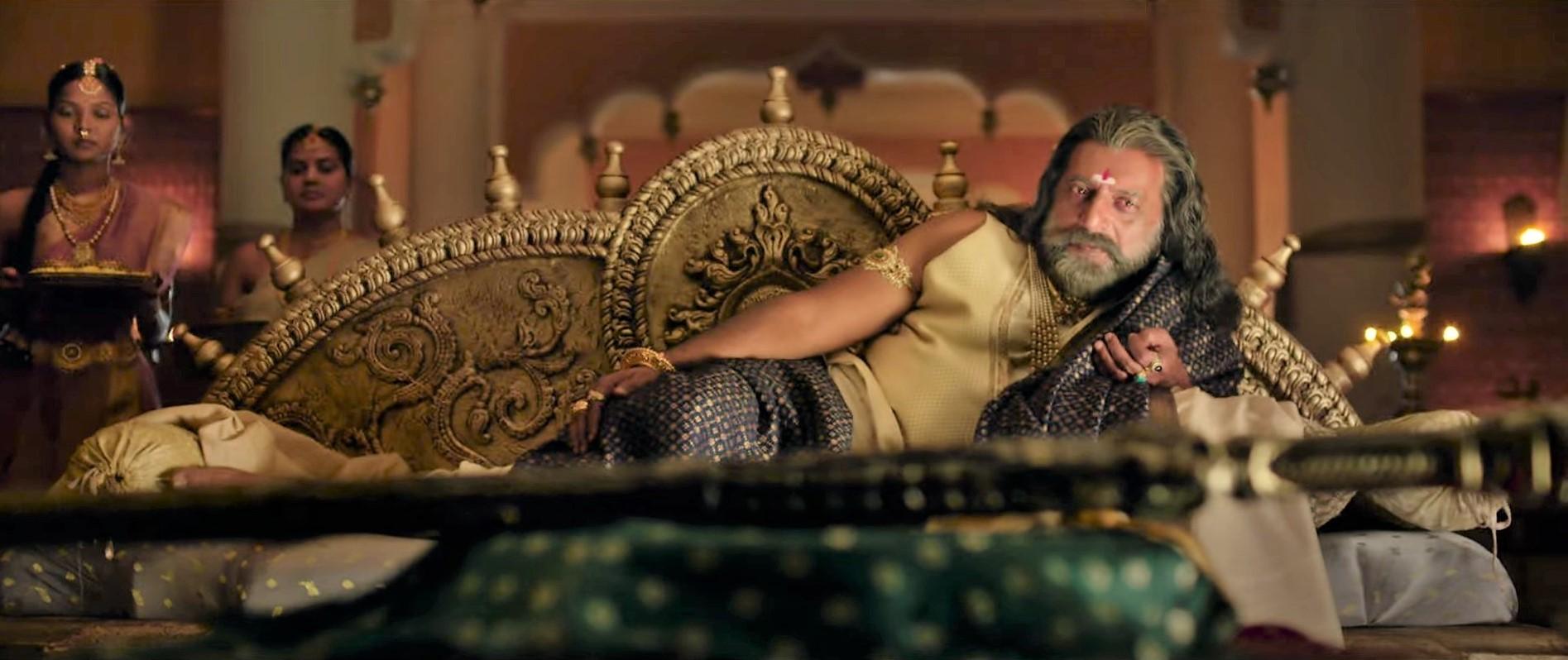 [In Image: Actor Prakash Raj as Sundara Chola from Ponniyin Selvan: Part One aka PS1]
Sundara Chola played by actor Prakash Raj in PS1, is a Chola King who takes a liking towards a deaf and mute Pandya princess named Mandakini. However, he does not marry her due to the clash of clans (Cholas Vs Pandyas) and mystery shrouds over the paternity of her twin children - Nandini, played by Aishwarya Rai Bachchan and Madurantaka, played by actor Rahman. Madurantaka is switched at birth and while he may or may not be Sundara Chola's son, he is raised as Sundara Chola's cousin.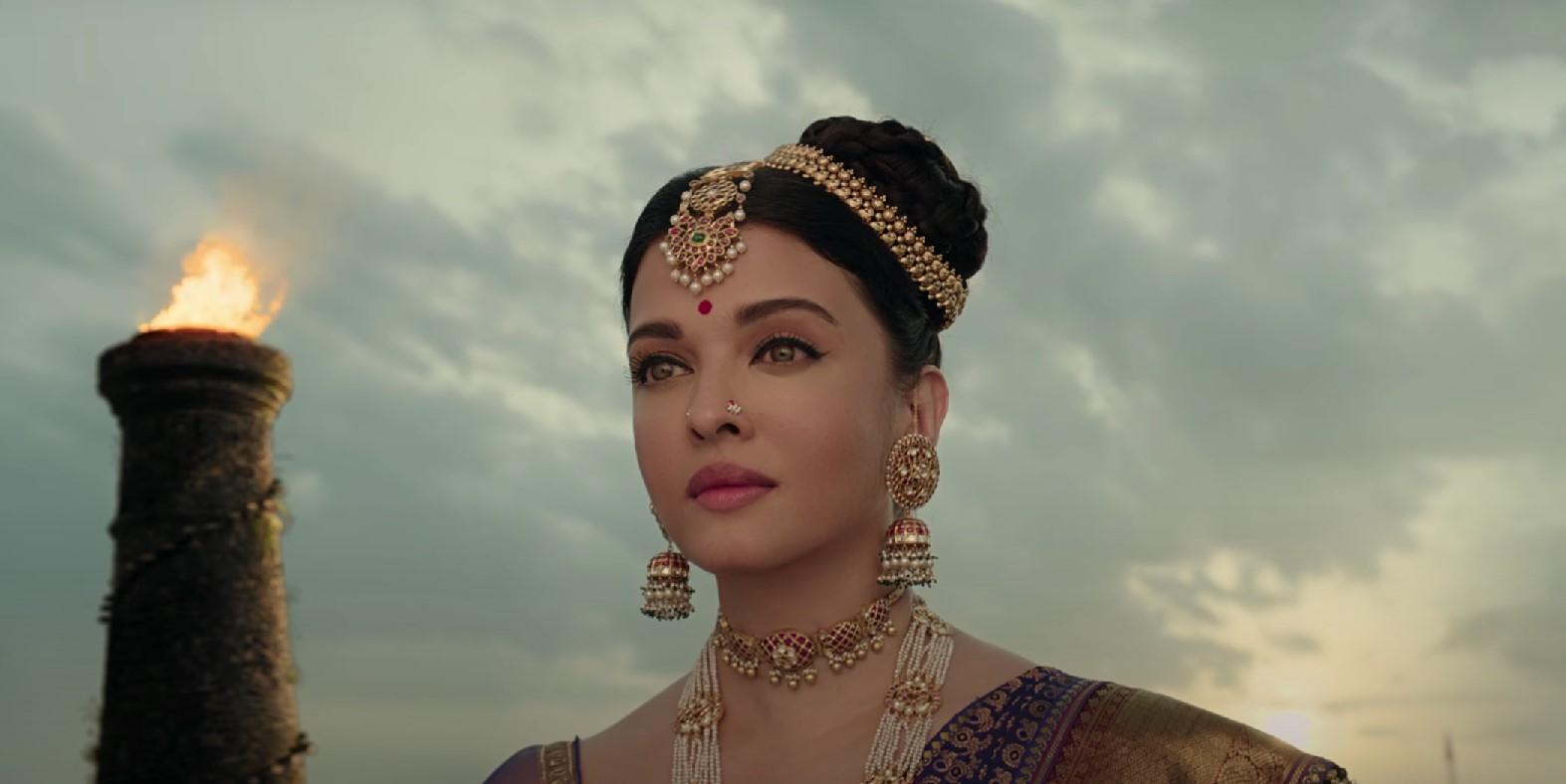 [In Image: Aishwarya Rai Bachchan from Ponniyin Selvan: Part One aka PS1]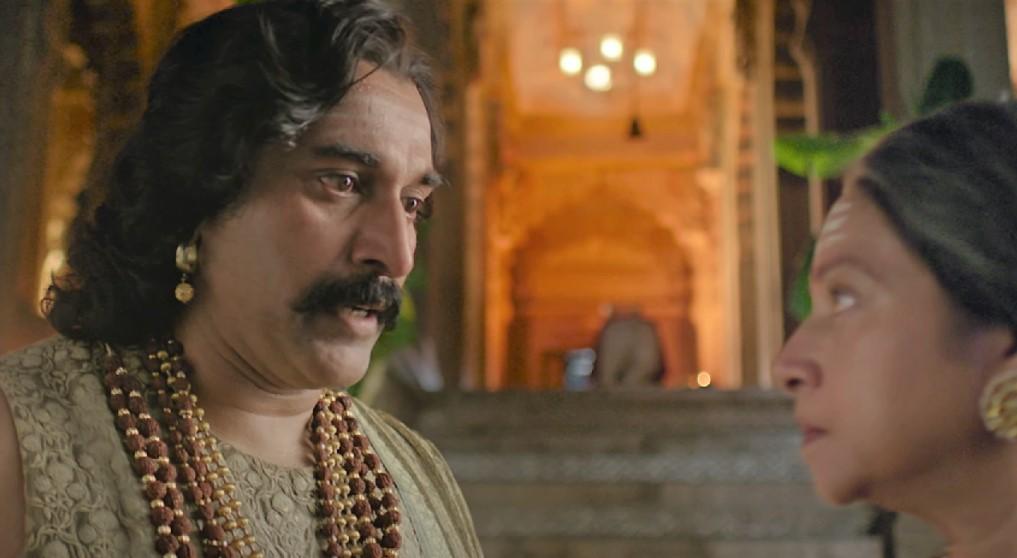 [In Image: Actor Rahman as Madhurantaka Uttama Chola, Nandini's twin brother by birth in PS1. Fun Fact: Rajaraja Chola I's magnanimity is often alluded to the fact he generously let his 'uncle' Uttama Chola take over the throne, before ascending it himself]
When Sundara Chola refuses to marry Mandakini, she attempts to take her own life but is rescued by a character named Karuthiruman, aide of a Pandya King named Veera Pandian (played by Nasser). One of these two is also the actual father of Nandini and Madurantaka. Madurantaka grows up as Uttama Chola while Nandini grows in a priest family with close proximity to Sundara Chola's royal children - Aditha Karikalan (Vikram), Kundavai (Trisha) and a very young Ponniyin Selvan (Jayam Ravi).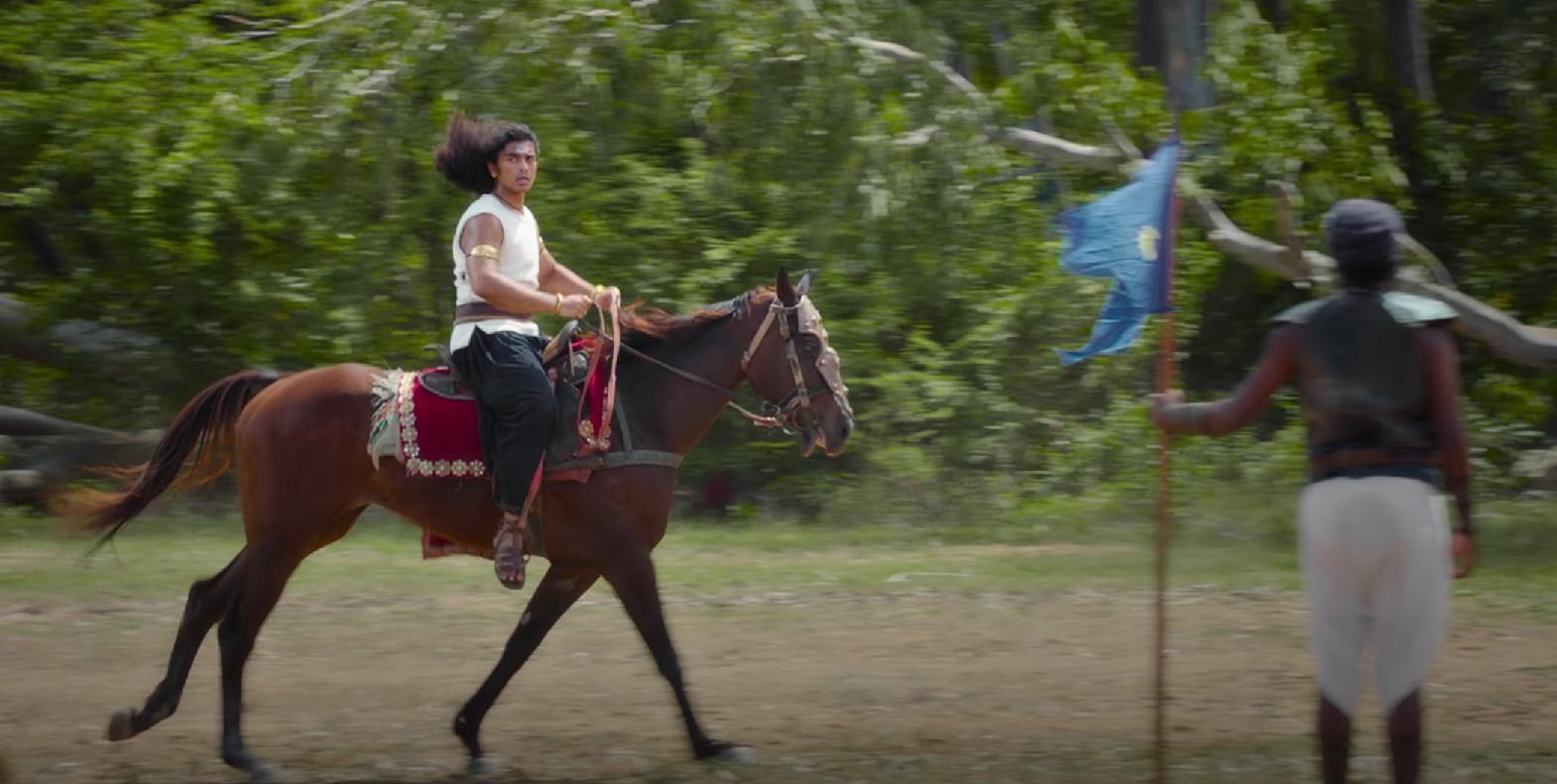 [In Image: Top - Young Aditha Karikalan, Bottom - Actor Vikram as Sr. Adhita Karikalan in PS1]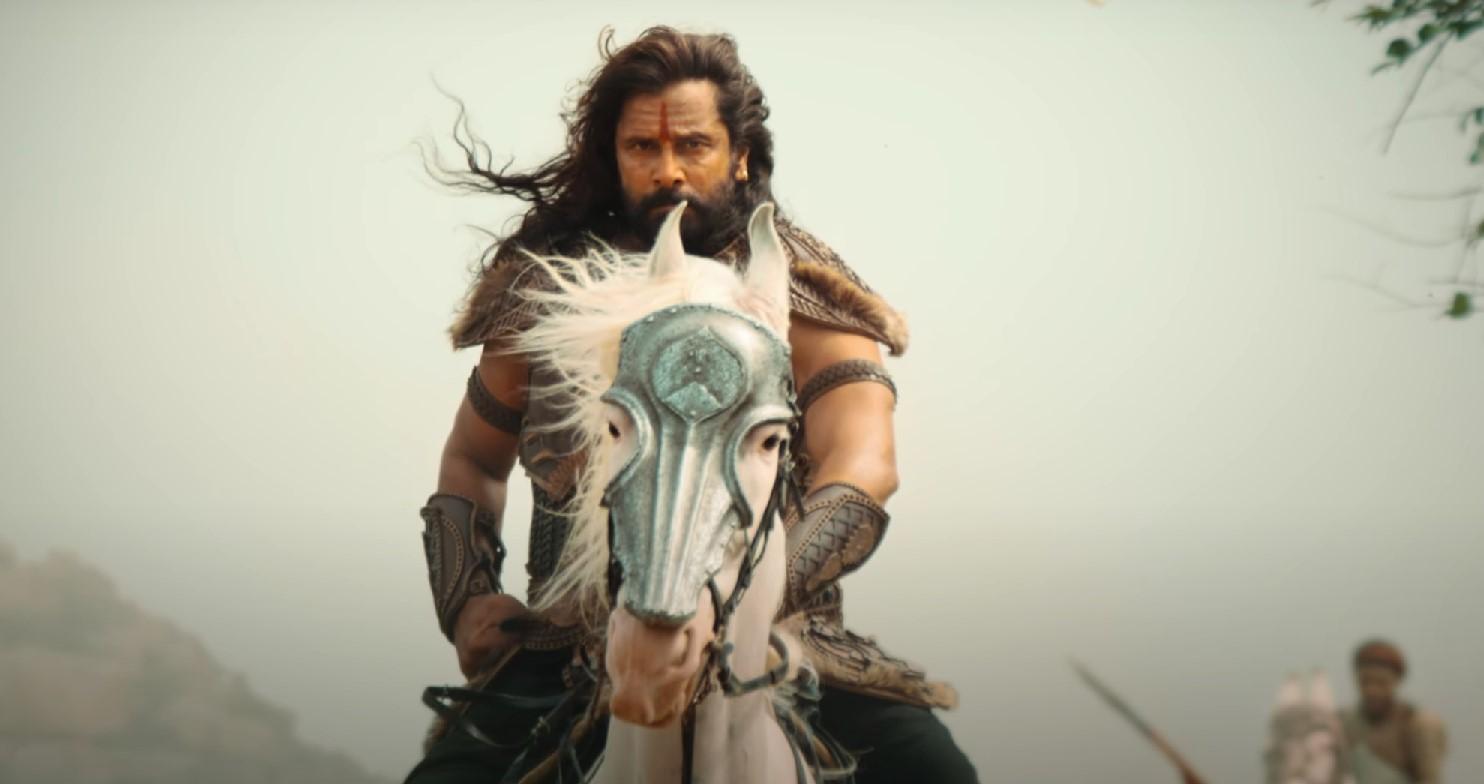 Aditha Karikalan's love interest towards Nandini is discouraged due to the paternity confusion and Kundavai's ego clashes with Nandini. Nandini grows up with a disdain for Sundara Chola's family and ends up with Veera Pandiyan, whose son calls her mother [It is understood that Nandini is brought to Veera Pandiyan's palace for being an exact replica of her mother].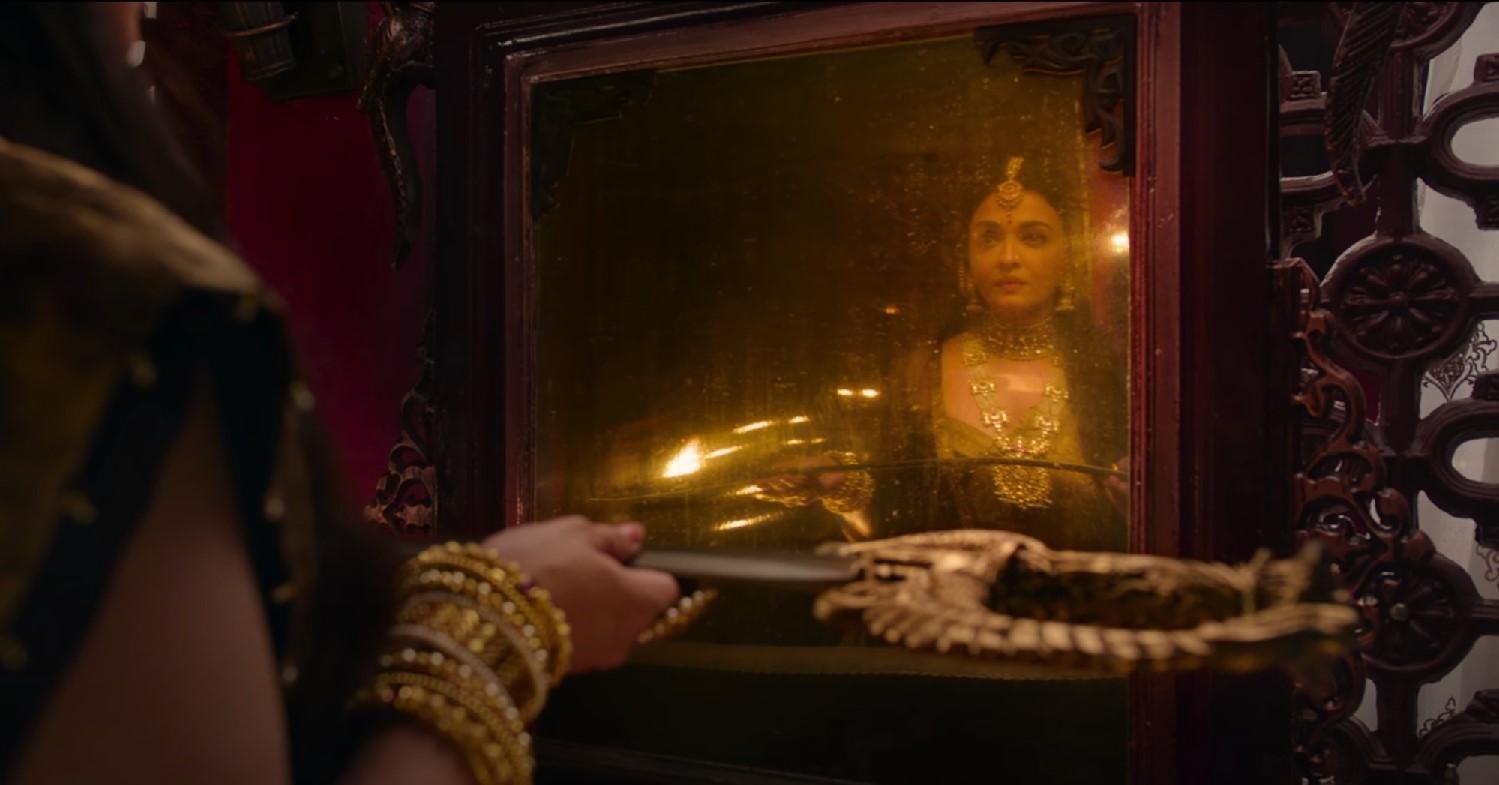 [In Image: Actress Aishwarya Rai Bachchan as Nandini in PS1]
All hell breaks loose when Aditha Karikalan beheads Veera Pandiyan in a Cholas VS Pandyas clash and Nandini, with the intention of infiltrating the Cholas, marries the empire's chancellor and a much senior Periya Pazhuvettarayar (played by Sarathkumar). [The story goes that Nandini is forced to perform sati since Veera Pandiyan's son calls her mother, but is saved by Periya Pazhuvettarayar who falls for her beauty].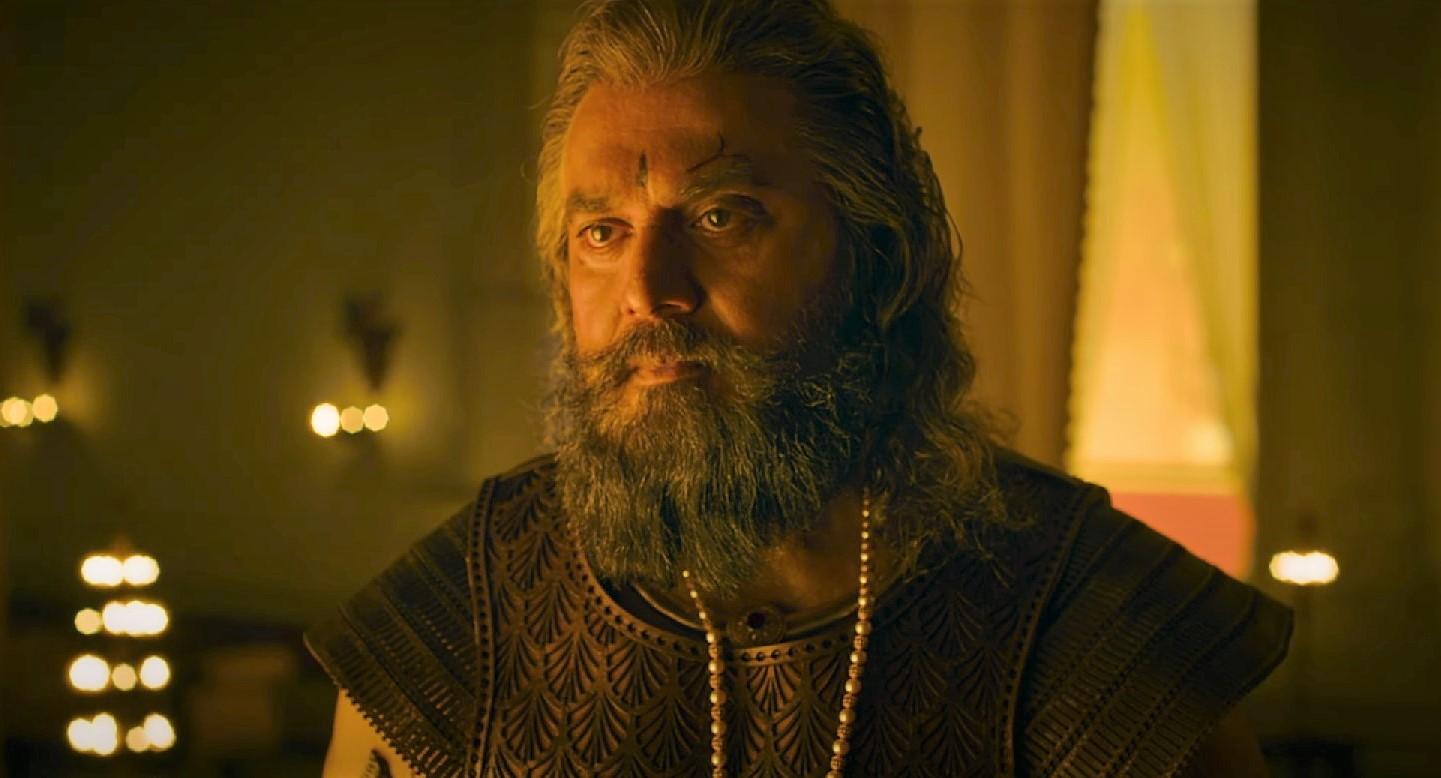 [In Image: Actor Sarathkumar as Periya Pazhuvettaraiyar in PS1]
As the PS1 trailer reveals, this is when heights of internal conflicts, wars and fight for the throne begins and the movie is expected to show how Nandini tries to bring an entire empire down, with only her beauty as weapon. [Her personal interest in the throne is also hinted in the Ponniyin Selvan trailer]. Two men who don't fall prey to this villainess' schemes are Vanthiyathevan (Karthi) who is Aditha Karikalan's trusted aide and Kundavai's love interest, and a grown up Ponniyin Selvan who never comes face to face with a wrath-filled Nandini.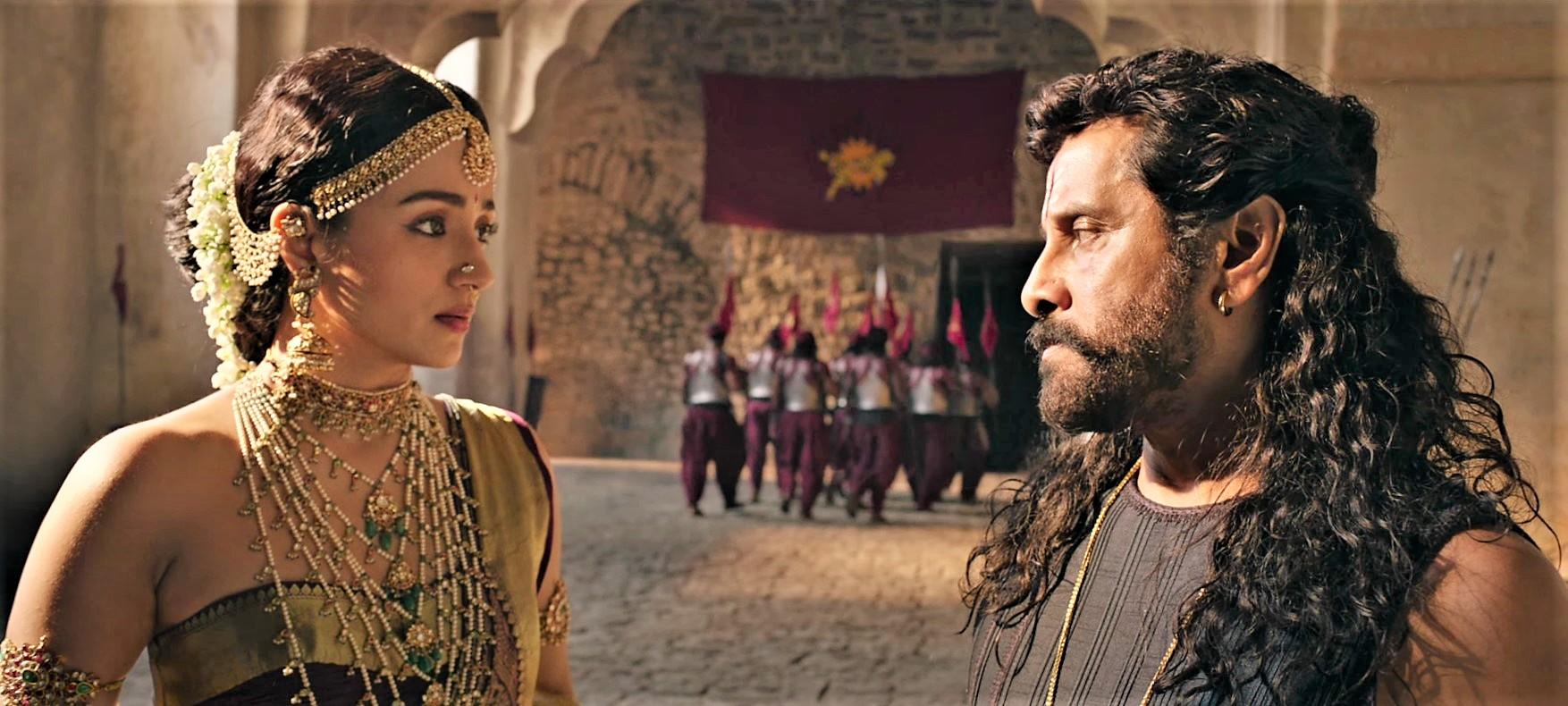 [L-R: Trisha as princess Kundavai & Vikram as her elder brother Adhitha Karikalan in PS1]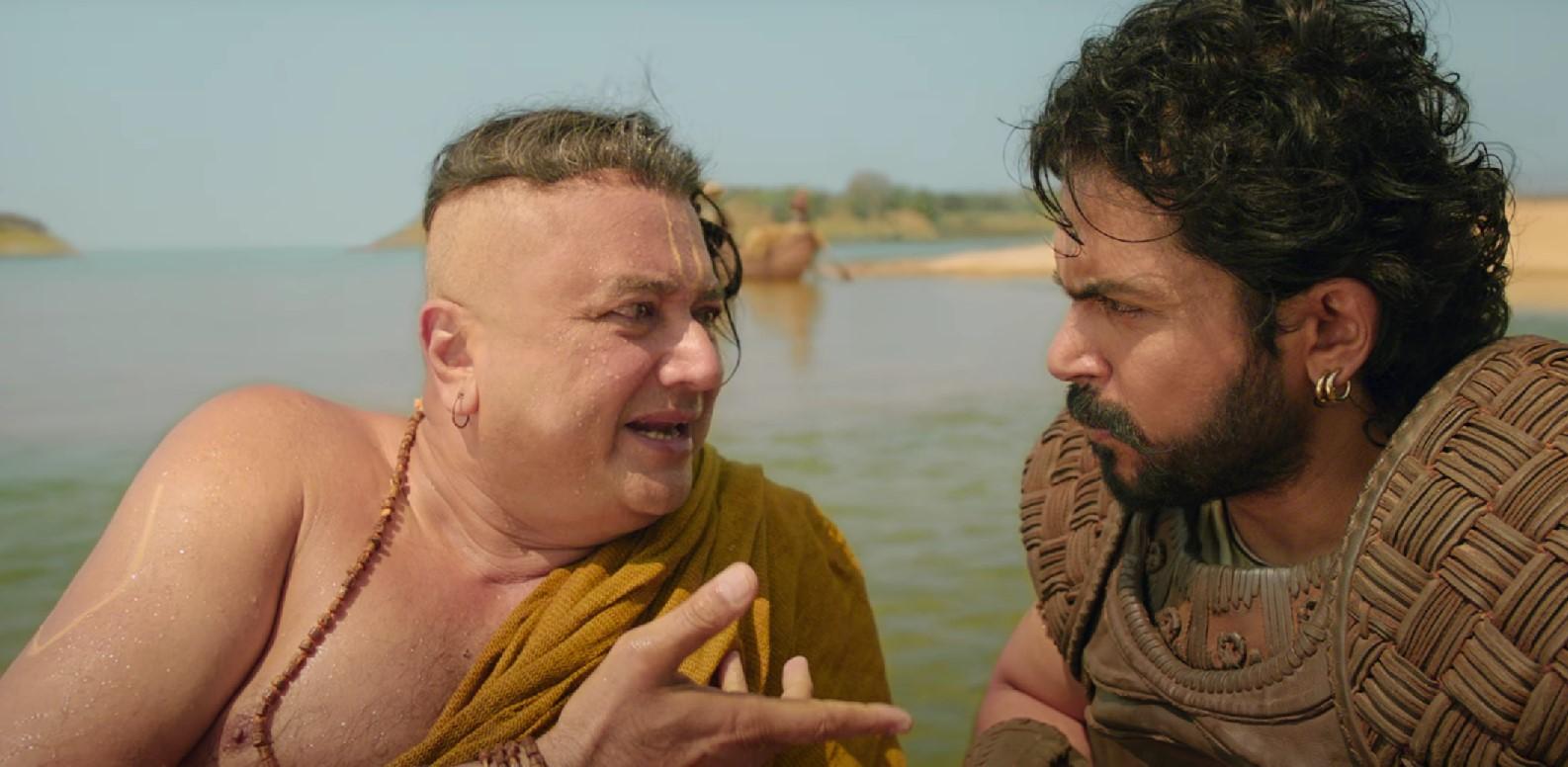 [L-R: Jayaram as spy Nambi, Nandini's foster brother & Karthi as Vanthiyathevan in PS1]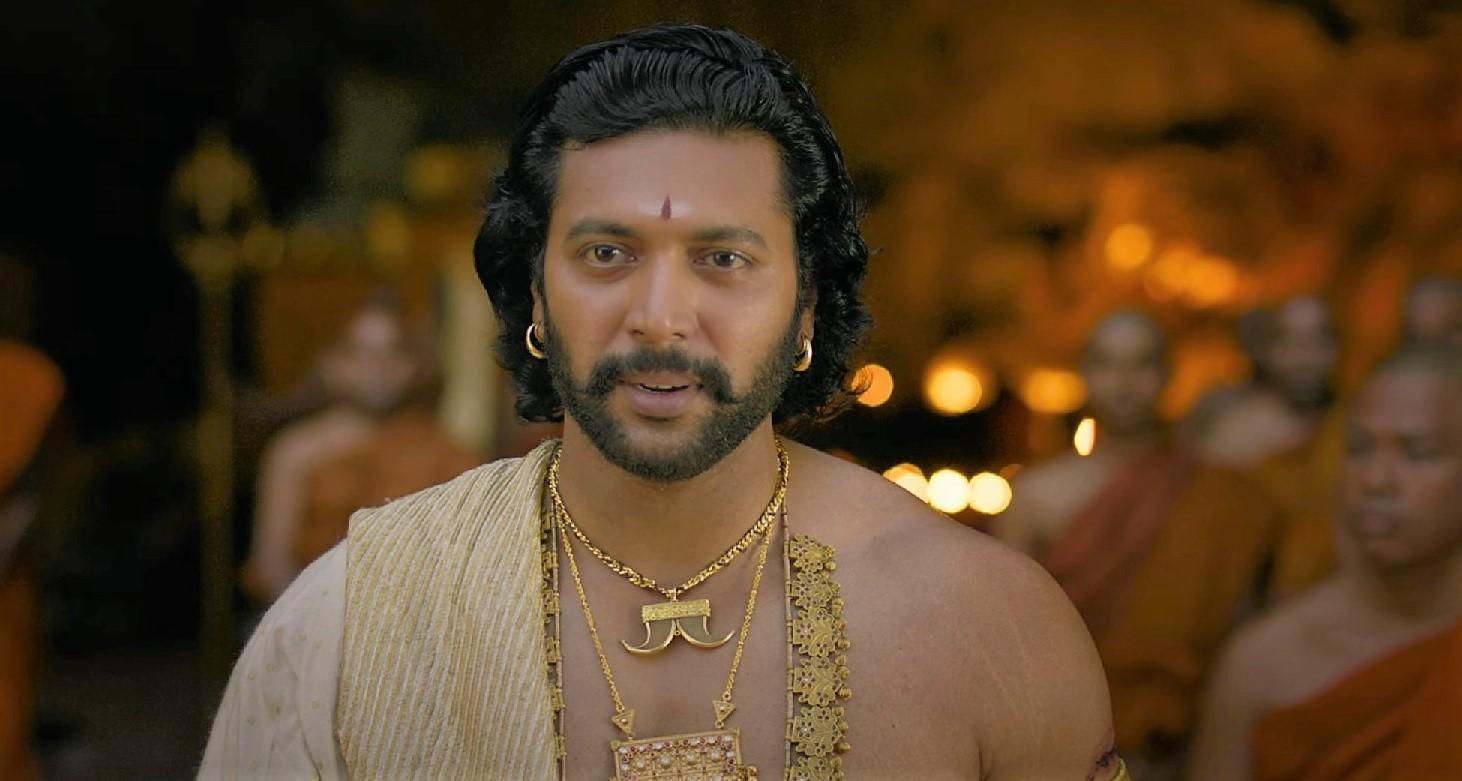 [In Image: Actor Jayam Ravi as the titular character in PS1]
Other characters shown in the video include Vaanathi (Shobitha Dhulipala), who is Ponniyin Selvan's love interest and is the niece of the Chola chieftain Vellar Boothi Vikramkesari (Prabhu) and Azhwarkadiyan Nambi (Jayaram), who is Nandini's foster brother and a highly loyal Chola spy. He also becomes a good friend of Vanthiyathevan. R. Parthiepan plays Chinna Pazhuvettarayar, who is the chancellor's younger brother and father-in-law to Madhurantaka. He constantly warns Periya Pazhuvettarayar on Nandini's intentions to no avail.
[The Pazhuvettarayar brothers are however in favour of Madhurantaka being next to the throne instead of heir-prince Aditha Karkikalan or his younger brother Ponniyin Selvan. They have a bed-ridden Sundara Chola under their control and weild a power heirarchy between the King and his children].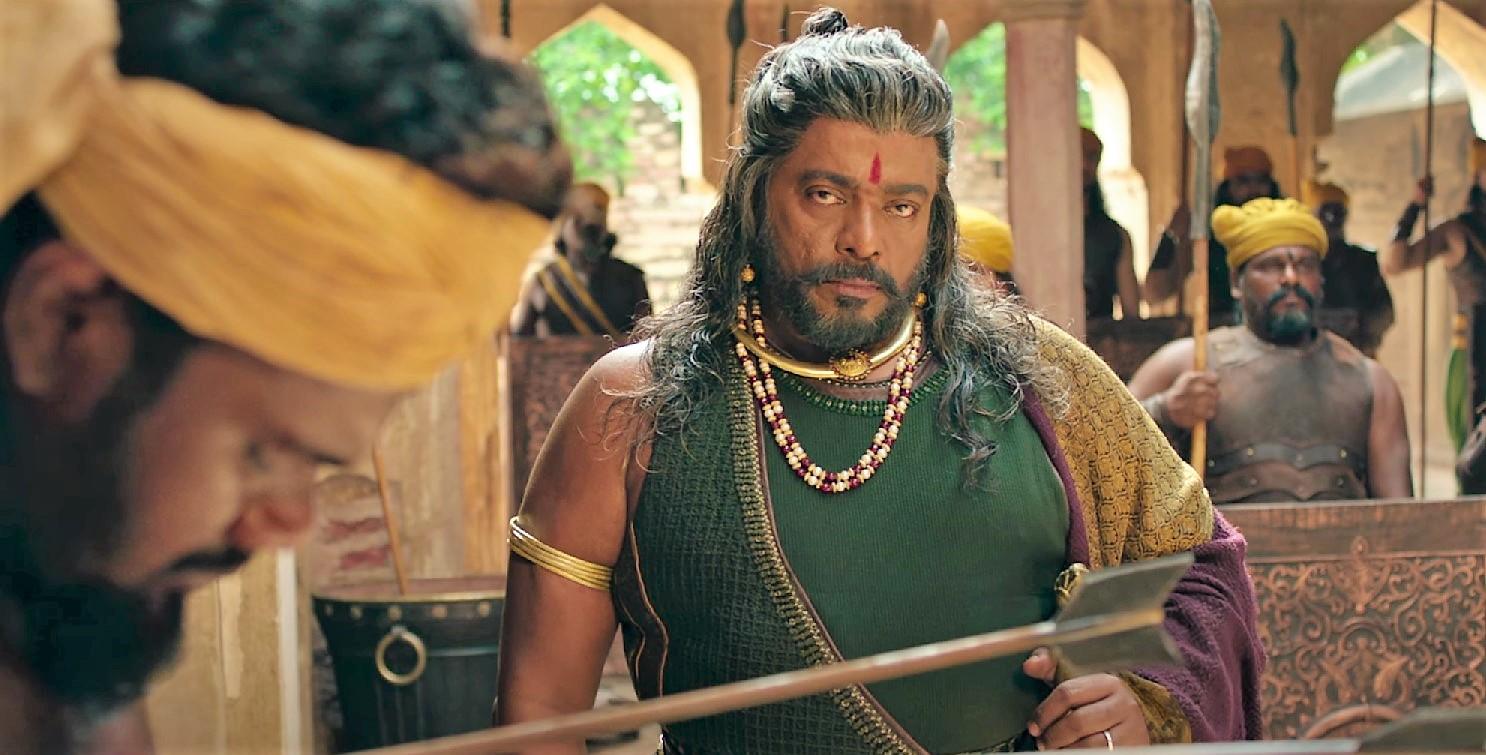 [In Image: R. Pathiepan as Chinna Pazhuvettaraiyar in PS1]
Actor Kishore plays Ravidasan, the other main antagonist of Ponniyin Selvan. How the whole revenge saga unfolds and conflicts for the throne come to an end, is what Mani Ratnam's movies are expected to showcase. A murder mystery is also part of the Ponniyin Selvan stories and it remains to be seen if it is covered in PS1 or its sequel Ponniyin Selvan: Part 2 (PS2). Along with the murder and murderer, Nandini's real father is also revealed at the end.