Veteran cricketer Sunil Gavaskar took a swipe at RCB captain Virat Kohli for his performance during the IPL 2020 match by stating, "He only practiced against Anushka's bowling during the lockdown. See the video. That won't help". The video that Gavaskar was referring to was a practice session Virat Kohli was helping Anushka Sharma and her cricket-trainer with, for the actress' role in the biopic of former Indian women's cricket team captain Jhulan Goswami.
Finally after soo much long time saw Virat Batting 🥳
Virat Anushka playing cricket in building today🥳
Anushka bowls a Bouncer to Virat😂#ViratKohli #AnushkaSharma #Cricket pic.twitter.com/XFmfs3hiBt

— Virarsh (@Cheeku218) May 15, 2020
Naturally, Sharma took exception to this commentary and released a statement via her social media stories to respond to Gavaskar. She said,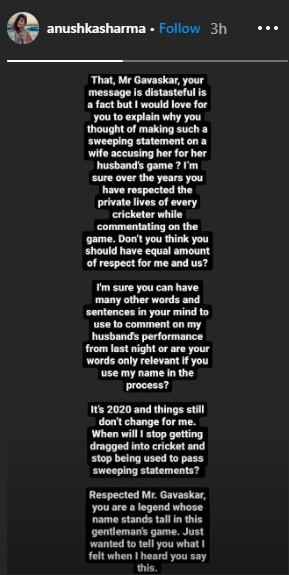 It is worth mentioning here that this isn't the first time Anushka Sharma's name has been dragged in relation to Virat Kohli's poor performance in cricket. Back in 2016, things had gone so out of hand at one point that Kohli had to release a statement in support of Anushka Sharma to get the trolling stopped. He had then said,
"Shame on those people who have been having a go at anushka for the longest time and connecting every negative thing to her. Shame on those people calling themselves educated. Shame on blaming and making fun of her when she has no control over what i do with my sport. If anything she has only motivated and given me more positivity. This was long time coming. Shame on these people that hide and take a dig. And i dont need any respect for this post. Have some compassion and respect her. Think of how your sister or girlfriend or wife would feel if someone trolled them and very conveniently rubbished them in public. #nocompassion#nocommonsense"