While Aishwarya Rai Bachchan was busy making her Cannes appearance this year, Bollywood actor Vivek Oberoi who is also now a keen BJP supporter shared a meme on his twitter page in the name of reflecting the poll results of the Lok Sabha Elections this year.
The meme not only portrayed Vivek's ex-flame Aishwarya Rai Bachchan (now married to another Bollywood actor Abhishek Bachchan) but also took a dig on her past relationship with Salman Khan.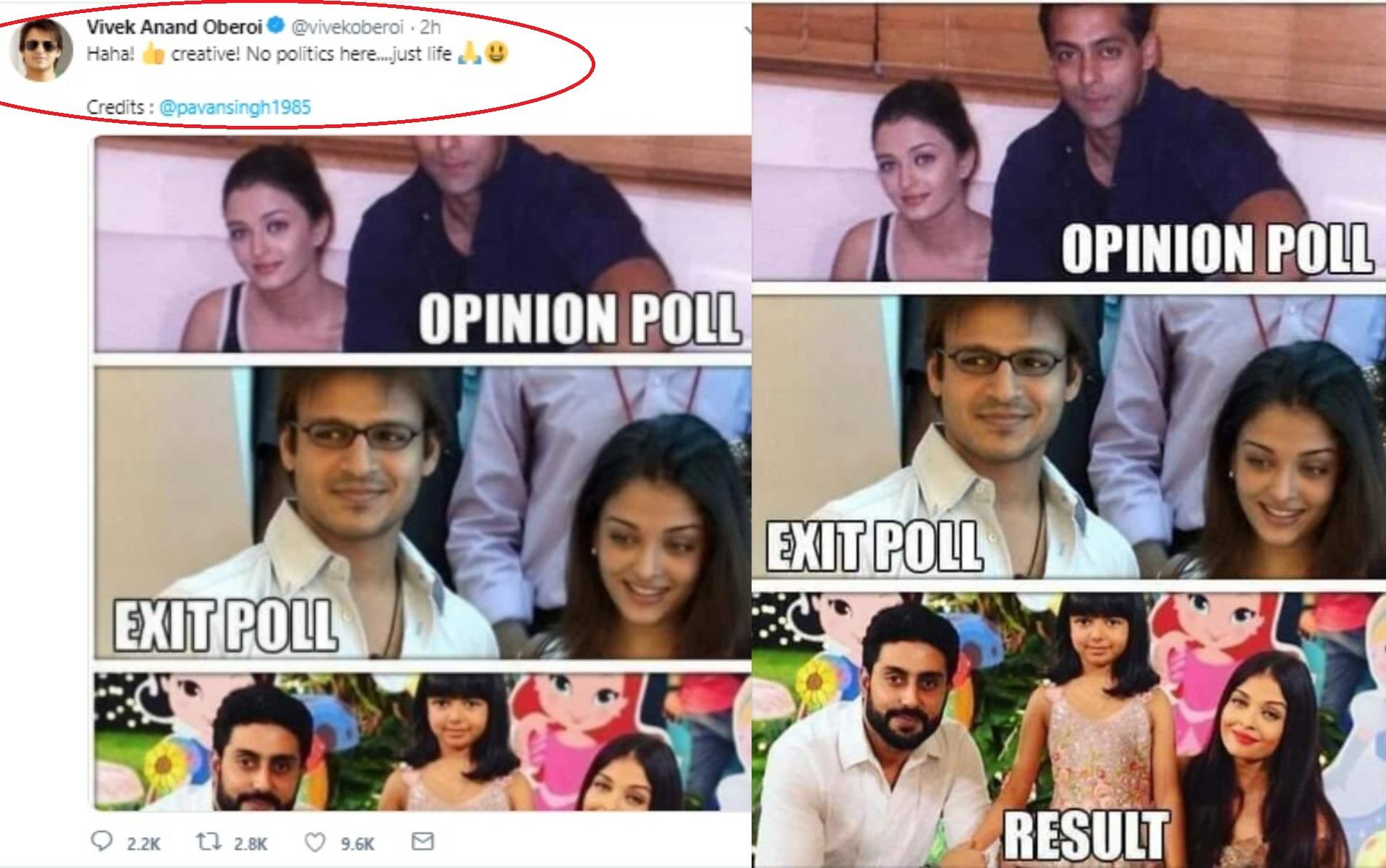 This distasteful meme has since been called out by the netizens who also were prompt to remind Vivek of the times he sought public apology of Salman Khan, who cut cords with Vivek and Aishwarya but maintained friendly relations with the Bachchans.
THIS MAN @vivekoberoi is so obsessed with himself n for limelight n attention he can do anything, Mard-o ka RAKHI SAWANT #VivekOberoi https://t.co/p772myUPND

— sagarsurana (@isagarsurana) May 20, 2019
Reality! pic.twitter.com/rwjHWqn4FD

— Salman Nizami (@SalmanNizami_) May 20, 2019
Someone is stuck with his past even after getting married to millionaire's Daughter.

— Mohammed Zubair (@zoo_bear) May 20, 2019
Are you kidding me here? I don't trust politicians but the Film Fraternity should boycott this lout. #VivekOberoi https://t.co/cLCdM3YeIO

— Siddharrth Jain (@TweepleLeaf) May 20, 2019
Is this the same guy who acted with #Ajith and glorified him in real life as 'nanba', 'elder brother' and all? Nothing creative in a distasteful joke on someone's life. #VivekOberoi https://t.co/a1K3cq3hk9

— George Vijay Addict (@VijayIsMyLife) May 20, 2019
Extremely absurd of you to tweet this!! Disappointing!

— Gutta Jwala (@Guttajwala) May 20, 2019
I condemn the dragging of daughter, a kid in his personal juxtaposing. This is ridiculous at so many levels. #VivekOberoi https://t.co/FS6n5Rt5q7

— iamthefaizan (@outinthe) May 20, 2019
At least this man should have thought 10,000 times before dragging a minor into it.. Shame on you Mr @vivekoberoi #VivekOberoi

— Kamlesh Sutar (@kamleshsutar) May 20, 2019
What's the prob with this psycho man🤧?
It is not a paise worthy step by a celebs to gain limelight.
I think he is a MISOGYNIST.
That's why he is not successful in films & now in politics.#VivekOberoi

— Chowkidar Debarupa Palit (@ipalitDebarupa) May 20, 2019
Dude wtf is wrong with you?
— Ishita Yadav (@IshitaYadav) May 20, 2019
man you should apologize for this...im your fan and im not expecting this from you...#VivekOberoi

— Kuldeep Tathode (@TathodeKuldeep) May 20, 2019
The utter crassness of #VivekOberoi's tweet today has at least proven that he has been chosen for the right biopic.

— Sayantan Ghosh (@sayantansunnyg) May 20, 2019
So disrespectful to a self made successful woman by a nepotism's byproduct who is yet to prove his acting mettle even after 18 years in industry.. #VivekOberoi

— Ruthless Romeo (@vivekr971) May 20, 2019
I thought it's a troll account. Shame on vivek #VivekOberoi #AbhishekBachchan #AaradhyaBachchan #AishwaryaRaiBachchan pic.twitter.com/JNAXJQZFD0

— #Sreesanth Ke Spinner 😎🏏 (@_foundmyself_) May 20, 2019
Haha! 👍 Savarkar! No politics here....just Mercy Petitions 🙏😃

Credits: @vivekoberoi pic.twitter.com/bOvkJ2J9yD

— Desi Bhai | JUMLA Expert | Troll Magnet 🇮🇳 (@DesiPoliticks) May 20, 2019
Haha! 👍 creative! No politics here....just life 🙏😃

Credit : @vivekoberoi pic.twitter.com/Tmj1iop2Ew

— Azy (@AzyConTroll) May 20, 2019