In case you didn't know, RJ Balaji's upcoming political satire LKG is hitting theater screens this Friday and the lead actor recently took to twitter to announce that his film will have an early morning show, a slot usually reserved for star actors in the Tamil filmdom.
Having seen the 5am shows of my favourite stars until recently, Having one for LKG now feels unreal. Never imagined this to happen. Blessed ❤️ #5amShowForLKG pic.twitter.com/9OsjRsYEG4

— LKG (@RJ_Balaji) February 19, 2019
Soon-after, this tweet emerged from actor Vishnu Vishal's account, leading everyone to wonder if 'the dig' had anything to do with RJ Balaji or his debut movie as a lead.

However it did not take long for the two to indulge in an open twitter war clearing up that Vishnu's tweet was indeed aimed at RJ Balaji.

#5amShowForLKG @GKcinemas Now ❤️❤️😍😍🙏 pic.twitter.com/0yfDD86J7k

— LKG (@RJ_Balaji) February 19, 2019
The now-deleted tweet barrage from both sides did not stop here and Vishnu Vishal almost went on a rant stating (sic),
"When u knw to criticise whole heartedly irrespecitve of the hardwork others hav put in and irrrspcrive of knwin wat d truth is, learn to accept criticism whole heartedly as well...its not just u whoz workin hard..infact ur route to fame is 'personal criticism route'




Guys i just wantd to show u all the reaction...thats all..n its clear n evident to all..:) been wanting to show d true side for a long time now:) 'unukku vandha raththam,yenuku vandha thakkali chutney aa??' my twitr frnds who knw me knw i wont talk unnecessarily :)#restupall




Im really happy for all small to medium budget movies gettin mornin 5am shows...really great for cinema..but am not happy abt certain people misusing n misguiding public all the time in the name of constructive criticism🙏good day all"



RJ Balaji retaliated to these statements with a video message (also deleted now) where he indirectly accused Vishnu Vishal of 'threatening movie theaters' to have shows of his film using his father's post at the fire department or else have the theater license cancelled. He also said that he did not require promotion for his movie from Vishnu Vishal in this manner.
The twitter rant which almost went on the whole day ended with both of them deleting all tweets and issuing these: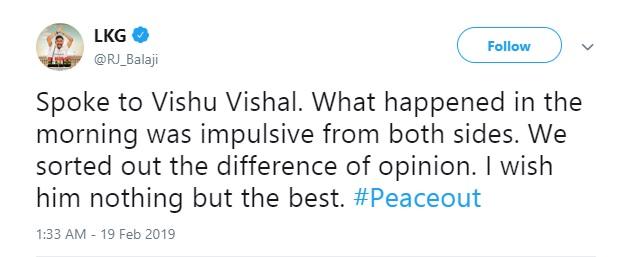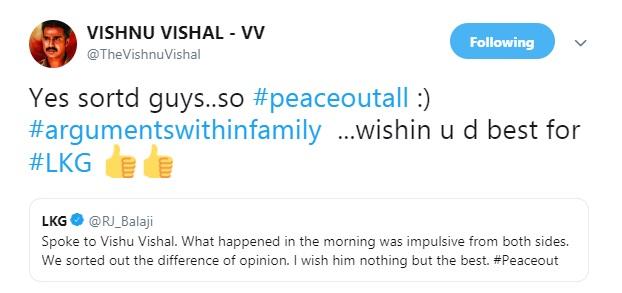 LKG which is rumoured to be a remake of Kannada film Humble Politician Nograj which in-turn is inspired from 2012's American comedy The Campaign, is scheduled for a release on February 22, 2019. The movie which also stars Priya Anand has been certified an U and comes with a run-time of 2 hours and 4 minutes.