In a rare incident, the Derby Police of Western Australia recently encountered a drunk driver who tested for a blood-alcohol content of 0.341 which according to the cops "biologically shouldn't even be possible."
Turns out the reading is equivalent to
"
driving while under a surgical anaesthetic or being in a coma" and it left the cops wondering how
the 36-year-old male was even driving at 2.45 AM on the Sunday morning he was caught.
To share this rarest of the rare case, the Derby Police's twitter account shared the driver's results with the popular 'This is Beyond Science' meme of Rajinikanth's from 2.0 and naturally made the Indian internet loose it chill.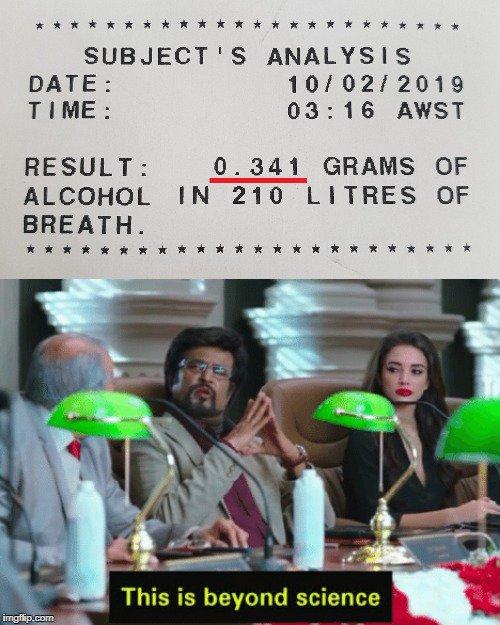 Here are some of the reactions:
OMG!! Thalaivar is everywhere 😅😅😅🤭🤭🤭

— Mariammah Prahalathan (@MariammahPraha1) February 10, 2019
Have lived in WA for 12 years now, never knew Derby.
Now I do – Credit to "Thalaivar"
😍😍😍😍 #Rajinikanth #SuperstarRajinikanth #RajiniEngalThalaivar pic.twitter.com/lR13Oe1ey7

— Sakthivel Nanjundan (@n_sakthi) February 11, 2019
Super Star mania grips @DerbyPol 🤣

— ஈரோடு சிவகிரி (@yetuyegambaram) February 11, 2019
You guys have gone viral cuz of the reference image.@rajinikanth #This_is_beyond_science #Thalaivar #2Point0

— Raghuventh (@iamraghuventh) February 11, 2019
Hope the message reaches millions !! Thalaivar for a reason

— Sudhan (@mohan_sudhan) February 10, 2019
Surprised to see Indian Icon #Thalaivar Rajnikanth here.

— Preetham (@Preethammech) February 10, 2019
Thank you Aussies 🤘💥💥💥💥💥🙏🙏👍🙌🙌👌👌👌👌👌👌👌👌👌👌👌

— Mayon (@Mayon75759992) February 11, 2019
2.0 is internationally recognized. Hats off sankar sir.

— Devanand Janardhanan (@DevanandJanard3) February 11, 2019
Admin namma payyan dhaan pola.

— how's the rogan josh? (@ikaipullai) February 11, 2019
Most liked & retweeted tweet in this account.
Fans of Superstar Rajnikanth @rajinikanth Thalaivaa
— Rajkumar Kandasamy (@Raz_cumar) February 11, 2019
Derby police, nice to see Tamil Superstar, movie personality used for a meme. It got the attention you intended hopefully... Highest # of likes of all your tweets I guess.

— Sundar (@pmsundar) February 10, 2019
This pic is taken from India's biggest film 2.0 which has more budget that deadpool and x men

— Karthi 2.0 (@Karthik8684) February 10, 2019