ICYMI, New York magazine's The Cut published a very distasteful piece on actress Priyanka Chopra's wedding to Hollywood actor-singer Nick Jonas and even went as much to call her a 'modern day scam artist'. The article penned by an African-american writer named Mariah Smith was received with so much uproar, that 'The Cut' had to take the piece down and issue an apology to Priyanka and Nick.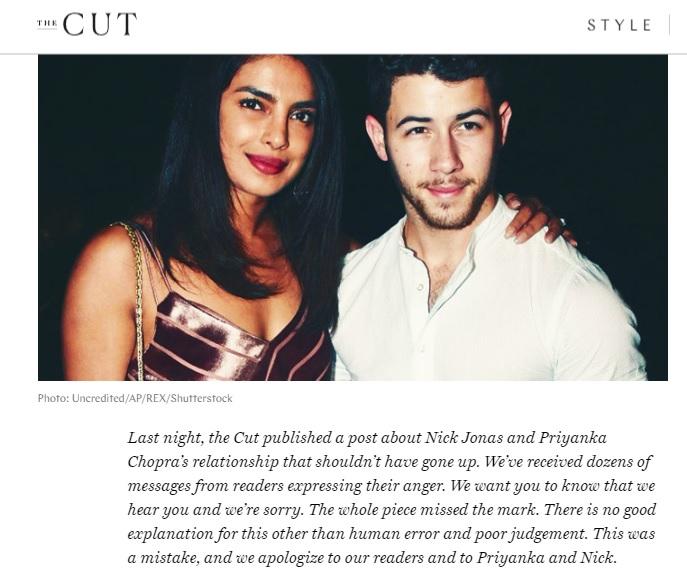 Nick's singer brother Joe Jonas, his actress fiancee Sophie Turner, Sonam Kapoor and Arjun Kapoor were among the celbrities who expressed their disgust on the piece as well.
This is disgusting. @TheCut should be ashamed to have someone write such evil words. What Nick & Pri have is Beautiful Love. Thank u, Next. https://t.co/G3hvXmhm9O

— J O E J O N A S (@joejonas) December 5, 2018
This is wildly inappropriate and totally disgusting. Very disappointed that The Cut would give anyone a platform to spew such bullshit. https://t.co/iYKaifKJP6

— Sophie Turner (@SophieT) December 5, 2018
For a publication that "shows women's what they are made of" @TheCut has a lot to answer for . The article on @priyankachopra was sexist , racist and disgusting. Also it's written by a woman which is so sad. It reeks of envy and bitterness. @mRiah shame on you! https://t.co/bmbbX7LrAT

— Sonam K Ahuja (@sonamakapoor) December 5, 2018
I know @priyankachopra personally & I'm fairly certain @nickjonas hasn't been kidnapped & forced into a union of love... @NYMag u have an unhappy opinionated racist frustrated journalist who's gone on n on about 2 people who by choice have gotten married. Tacky n uncouth writing. https://t.co/ngLvyqw6fD

— Arjun Kapoor (@arjunk26) December 5, 2018
Needless to say, the Indian media was at the fore-front of shredding New York magazine's article into pieces, for it contained lines such as'Nicholas Jonas married into a fraudulent relationship against his will' , "All Nick wanted was a possible fling..but instead he wound up straight at a life sentence with a global scam artiste" and called Priyanka "a scam artiste who never even took the time to make sure he (Nick) was comfortable riding a horseback before arranging for him to enter their wedding ceremony" on it.
When Priyanka was asked about this at an event in Delhi last night, she responded by saying, "I don't even want to react or comment. It's not even in my stratosphere. I'm in a happy place at this moment. These kinds of random things can't disturb it."