The #Metoo movement which has gained momentum in India has turned into a storm with women from various fields coming forward exposing more prominent names. Bollywood Superstar Aamir Khan is the latest to stand for women's rights and support the ongoing #Metoo revolution.
The 'Dangal' actor on Wednesday announced his departure from an upcoming project, saying he has been informed of "sexual misconduct" allegations against a team member. In a joint statement by Aamir Khan and his wife Kiran Rao, the duo said "Aamir Khan Productions we have always had a zero-tolerance policy towards sexual misconduct and predatory behaviour of any kind." They said they were committed to making the industry a safe place.
Here's the statement issued by Aamir Khan supporting #MeToo movement, where he also clearly stated he would discontinue working with a person whose name was involved.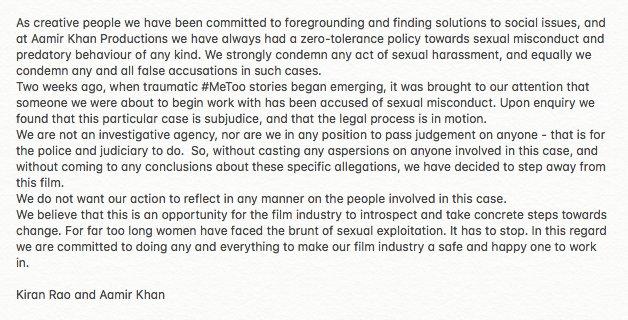 The film is question is reportedly the big budget production venture Mogul (Gulshan Kumar biopic) to be directed by Subhash Kapoor, who had been accused of sexual harassment by a female actor. Kapoor is currently embroiled in a legal battle with Geetika Tyagi who has accused him of molestation.
A couple of months ago, Aamir Khan had joined hands with T-Series' Bhushan Kumar as the co-producer of Mogul, the Gulshan Kumar biopic. Bhushan Kumar in response to Aamir's statement has clarified to a leading daily that Subhash Kapoor will not be directing the film. Subhash Kapoor has also responded saying that he respects Mr Khan's decision and hopes to clear himself in court.
The action comes after both Aamir Khan and Kiran Rao attended a meeting with the members of Producers Guild of India at the Roy Kapoor Films' office in Mumbai on Tuesday. The meeting was planned to discuss the steps required to make the film industry a safer and healthier place for women.