In an act of vandalism, two screenings of the recently released Telugu movie Sye Raa Narasimha Reddy were disturbed in Canada after hooligans sprayed bear spray in movie theaters at Kitchener and Whitby at Ontario. The local police believe that the two incidents are connected and suspect them to be targeted events.
At Landmark Cinemas in Kitchener, where the one of the incidents took place on Friday, the male culprit also cut the theater screen before spraying a 'noxious substance' causing discomfort to the audience. Local Srilankan theater-exhibitors have been accused as suspects by some in the Indian-Canadian theater business, because of previous incidents involving screening of movies like Bharat Ane Nenu (Mahesh Babu), Thangamagan (Dhanush) and Puli, Theri (Vijay).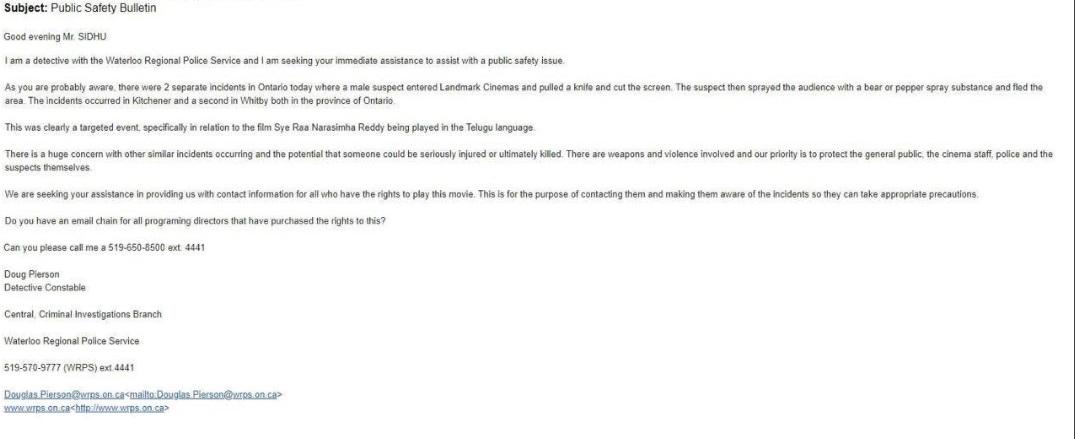 Apparently during the release of Bharat Ane Nenu, some of these Srilankan exhibitors had outsourced KDMs from outside the country without informing the official Canada distributor of the film, resulting in heavy losses for the distributor. [The distributor had sought the intervention of KDM provider QUBE in this matter but the company had stated that the Key provider was well within his rights to showcase the movie via multiple logins anywhere outside of India].
Also the 2016 spraying of noxious substances in Cineplex theatres of Brampton, Scarborough and Mississauga which lead to the cancellation of Theri shows and the 2015 incident of screens getting ripped during Thangamagan and Puli shows, are attributed to Srilankan exhibitors being unhappy with Cineplex charging less price and damaging their business.
With yet another South Indian biggie (Bigil) expected to release this month, Cineplex theaters' vigilance is on an all time high and one surely hopes that such acts of repetitive hooliganism does not bring a result like Paris.