A day after the title teaser of Jawan dropped, netizens on Twitter have been found expressing that Shah Rukh Khan's first look from the movie seems heavily inspired from Hollywood actor Liam Neeson's iconic Darkman look. Liam Neeson played a scientist in the Sam Raimi directed 1990 movie called Dark Man, and his character becomes horribly disfigured when gangsters try to burn down him and his lab. Neeson unleashes a revenge tale with newfound rage and trauma, and his look with bandages all over his burnt face became synonymous with the character.
SRK's look from Jawan is like Sam Raimi's Darkman and The Hush from DC comics 😳

— Vrushabh Naik (@matt_murdocck) June 4, 2022
@iamsrk look from #jawan inspired by hollywood film Darkman? 🤷🏻‍♀️ @Atlee_dir pic.twitter.com/K0GyfESt9I

— Swarnima (@swarnimaaaa) June 3, 2022
ek aur Copy #Jawan #Darkman
sure they'll alter the plot story somewhat in the middle
with #Bollywood tadka , mirch masala, romance & Item song #SRK
but the overall shape would be #copycat #BollywoodCopy pic.twitter.com/hZs5pmSqgD

— Somenath  (@shomer_A) June 3, 2022
1990 Darkman SRK Jawan pic.twitter.com/jQHGvYK0tl

— Sameet Thakkar (@thakkar_sameet) June 3, 2022
This is 100% "inspired " by Sam Raimi's underrated gem Darkman pic.twitter.com/Gs0sRU9iEY

— Amit Khaira (@Amitkhaira) June 3, 2022
In Jawan teaser, Shah Rukh too is seen with bandages all over his destroyed face and this is what seems to have triggered the comparison. The set up that Shah Rukh's character is 'out to get', with a work-station in a hardly used area (A bandaged Neeson sets up his a new lab in an abandoned warehouse too) and one similar costume seems to have further fuelled it.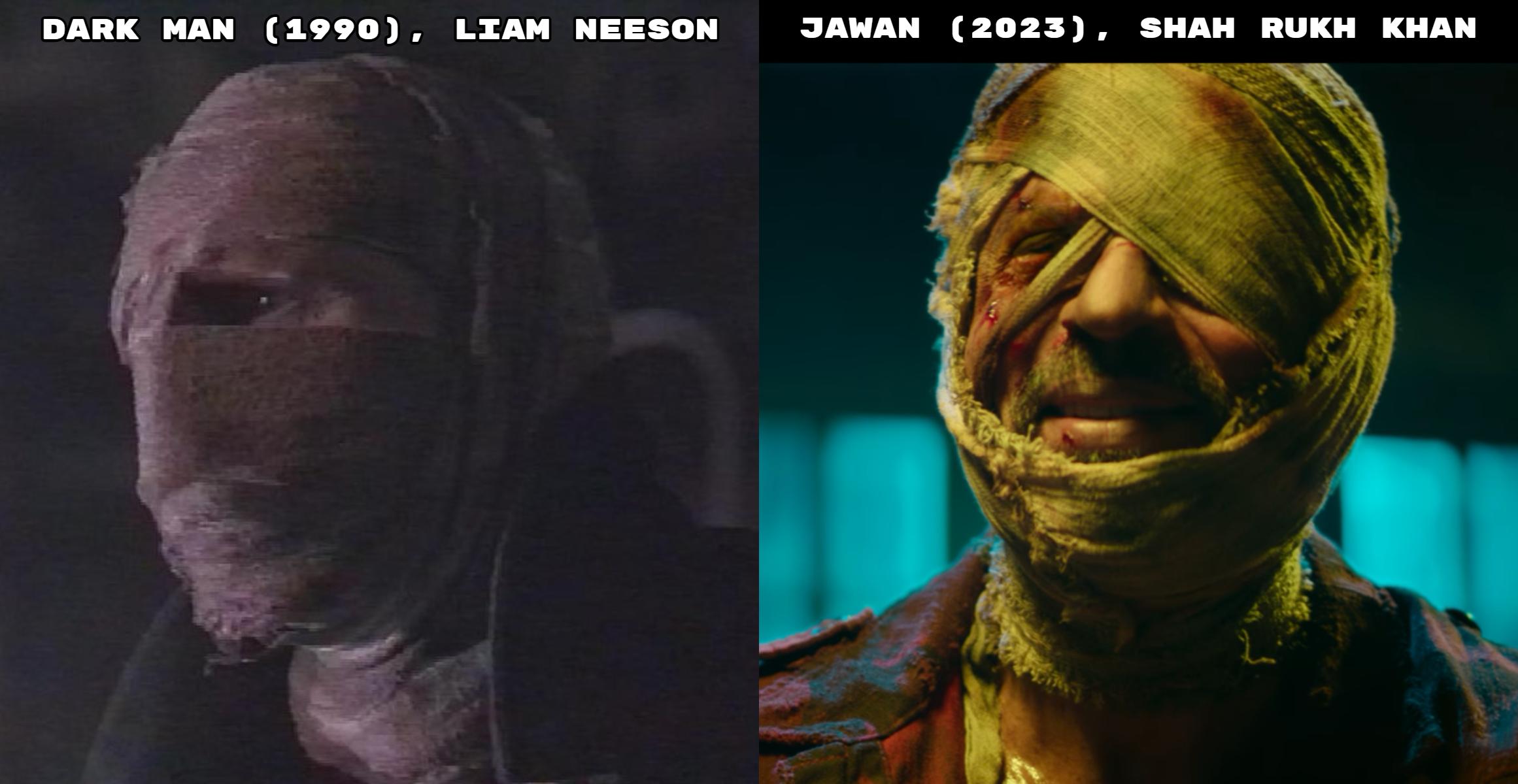 It is worth mentioning here that Darkman is considered one of Warner Brothers' cult superhero movies in the DC world. Jawan on the other hand has been hinted to be about a RAW officer with the Indian army.