Director Rakesh Omprakash Mehra and lyricist Prasoon Joshi have now expressed their support for composer A.R. Rahman after the miffed musician expressed his disdain for T-series' latest song Masakali 2. To the unversed, Masakali 2 is the remix version of the song Masakali which was originally composed by Rahman, sung by Mohit Chauhan, penned by Joshi and featured in Rakesh's 2009 directorial Delhi-6.
Musician Tanishq Baghchi recreated the famous number as a single video, which has been facing the wrath of Indian netizens, to the point where even the non-controversial Rahman took to his social media pages to respond.
Enjoy the original #Masakali https://t.co/WSKkFZEMB4@RakeyshOmMehra @prasoonjoshi_ @_MohitChauhan pic.twitter.com/9aigZaW2Ac

— A.R.Rahman (@arrahman) April 8, 2020
This was met with support from the Delhi-6 team as well as most of his fans online.
#Delhi6 the movie & it's songs created with so much Luv & passion , let's save the original creations for generations to come. #saynotoRemixes https://t.co/QIKqYRKiPl

— Rakeysh Mehra (@RakeyshOmMehra) April 9, 2020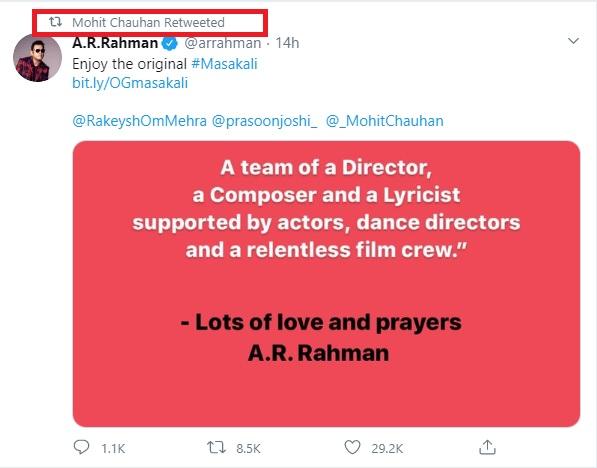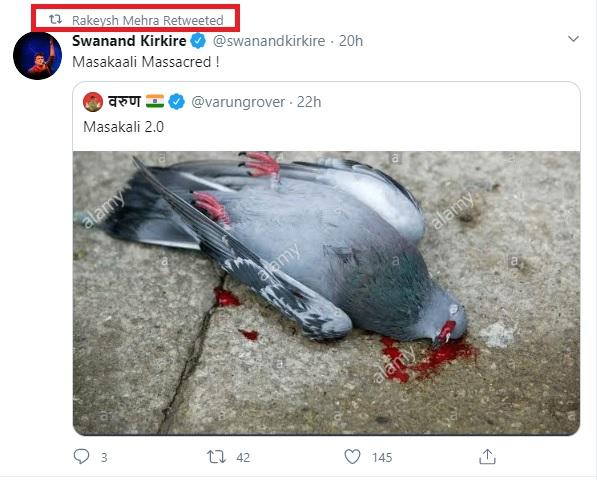 AR Rahman subtweeting on Instagram is a rare mood.@arrahman #Masakali #Masakali2 pic.twitter.com/Jg4F9udQgB

— Samir Virani (@SamirVir) April 8, 2020
Composition is butchered.... creative work is very close to artist at emotional level and attachment.. it's human for him to get angry

— naagrik (@just_a_naagrik) April 9, 2020
Savage! Listening to the original as I type this! #Masakali2 is a diaster. Why ruin something so perfect! https://t.co/tWhRmvblVh

— Rini Chatterjee (@RiniChatterje) April 9, 2020
No offense to #SiTara
But #Masakali2 is a blunder.

Two most irritating songs of 2020 are Masakali 2.0 and Gendaphool(personally I hate that rap)

Also I am sad that some musicians are hell bent to ruin the originality & essence of old songs disrespecting its creators.

— 🍁🦋𝕻𝖗𝖆𝖙𝖎𝖛𝖆🦋🍁 (@Prativa_MM) April 9, 2020
Just heard #Masakali2. Really proud of boys and girls who are exemplary of the epitome of hard work as it took a couple of hours to screw a wonderful creation which once took AR Rehman months to compose. You need some legit shit inside to kill a beautiful song.

— Atish sharma (@atishsharma990) April 9, 2020
Can we please mass dislike #Masakali2 just so it feels good seeing more dislikes than likes and also makes them realize that no matter how big a music label is, they shouldn't disappoint the audience.

— Shruti (@ChidiyaChirps) April 9, 2020
Hi Bollywood, what did you do to AR Rahman? #Masakali2 #ARRahman pic.twitter.com/FyLpStfGmd

— Bhavya Venkatesh (@bhavyavenkatesh) April 9, 2020