Once Shankar roped you in as the VFx supervisor, what were your plans of execution for the film?
2.0 is a first of its kind in Indian films. Generally in other films, only the background characters will be the Visual Effects characters and not the main ones. But in 2.0 most of the main characters are visual effects generated ones. The story is such that we cannot narrate it without the visual effects. Even in Hollywood, there are no Fx based characters i.e. particle based ones.
If we are creating a human, we can have 10 movements with a control. But here, the giant ones and others are made up of small elements. Giant Akshay Kumar or the bird is made up of many cell phones. We call this Fx set up which is very complicated. In India, it is not used. So my main preparation was towards this segment. How to control the Fx and how to create its set up, were my first areas of preparation. For this purpose, I had set up an R & D unit whose 50 to 60% of VFx work was to create set up for these characters.
Parallely, like in Enthiran, we did the pre-visualization for this film too but with a digital storyboard wherein we had designed and animated the characters roughly, before shooting. After we checked this and found ok, we went to the shoot.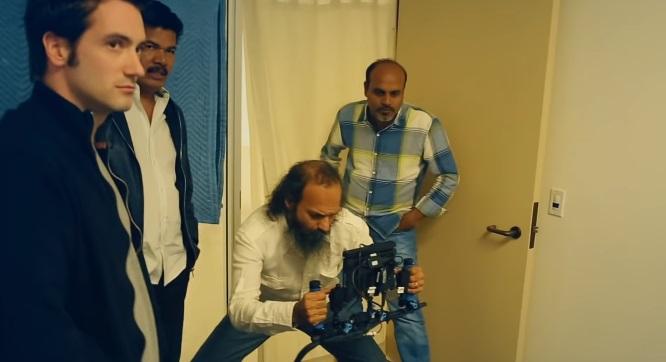 We also used the next version which is called the virtual camera system which helps the cinematographer to produce the perfect depth for 3D shoots and also allows the handling of the camera virtually. The advantage of this is that there is no in-between operator but it can be controlled from inside.
Can you elaborate on this further?
In 2.0, you would have seen a bird carrying human beings up. For their movement down, we had created a bird in grayscale roughly, many boxes for buildings, and gave the movements. There was a camera inside the computer, and we shot. This was digital. To move that camera inside the computer, we need people with adequate skill set on it. For this purpose, we had connected the inside camera with outside through a system. We had kept a small equipment outside for this. Physically this can be operated. It will be like a real shooting outside but happening inside the computer. This is very comfortable with a better control. This we had done at the pre-production stage which was like a real shoot technology.
What were the other preparations?
This is a 3D film and so there were many preparations towards achieving this aspect. For the audience to have that feel, Muthuraj sir, Nirav Shah and other team heads and I held discussions. Every department had prepared themselves for the 3 D work.
Difference between Enthiran and 2.0 in terms of CG work
In Enthiran, CG work for any character, be it a ball or a snake, was limited. But in 2.0, those resembled the artists. Whichever form it may be, it resembled the artist, like the giant Rajinikanth or the big bird Akshay Kumar. We achieved this in 2.0. We couldn't achieve that in Enthiran because there were limitations. But in 2.0, Shankar sir had clearly mentioned that the forms should resemble the original artist. Even in Hollywood, such things are not there. Take for instance Transformers, the forms are created new and had no resemblance with the existing artist.
Which was the most difficult scene for you in 2.0?
Climax was the toughest. Those 20 minutes of footage were complicated. There would be an increase in number of forms. Also, it was tough to create the bird. The giant fight scene was challenging.
Favorite scene
My favorite scene was the arrival of 3.0 and the formation of 2.0 that challenges everything.
How did you give movement to the digitally created characters?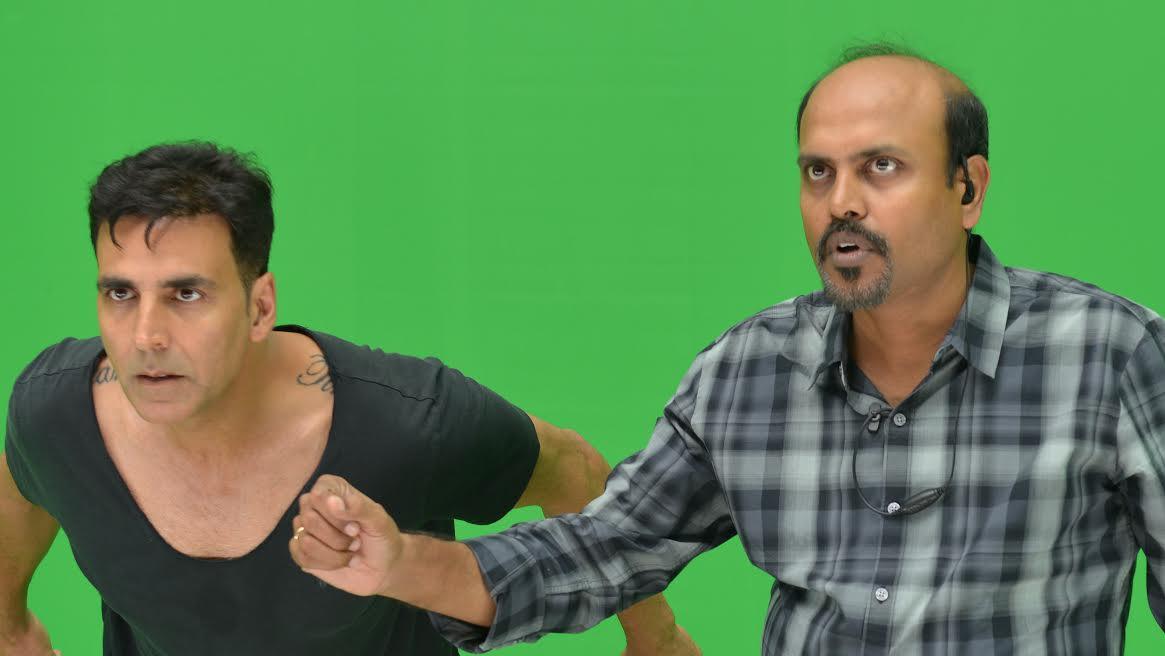 We were the ones that gave emotion to the digitally created characters. There were various departments working on that. Modeling department built these characters. At the animation stage we gave them the movement. We captured Rajini sir and Akshay sir's movements and performances using 6 cameras. We had these as our reference and guidance. But we did not have reference for the bird and therefore we did that on our own. A small bird can be animated but for the huge one, we had to use our imagination which was challenging to us.
Rajinikanth
I have worked with him since Sivaji. He is humble and professional as always. When we were shooting a scene where he enters the museum by hacking, he walked in his customary quick style and had hurt himself then but none of us knew. When Shankar sir had called in action, we realized that there was a small crowd around Rajini sir. We came to know that some sharp part in the set had hurt his knee and he was bleeding. But he did not mind as he did not want the unit to incur loss because of him. Later he was taken to the doctor and he had four stitches. It took one month for him to recover.
Akshay Kumar
We had shot the climax in Delhi during the hot summer at the stadium where the temperature was hovering around 50 Degree C. The stadium was like a furnace. Akshay's suit weighed 18 kgs. He was not well during that time also. But he never paid any heed to all these and worked very hard. If he had taken leave, it would have cost us a lot as there were many set ups and artists in that schedule and to assemble all of them would have been a Himalayan task.
Usually Akshay does not use much of make up in any film. But in this film, there is not a single scene for him without make up. It used to take 3 hours for him to don his makeup. He cannot take it off for at least 5- 6 hours. He developed rashes because of the body suit and heat. But being the professional that he was, he completed his portions despite all these.
Now that you have set a very high standard in terms of Visual Effects, how are you looking at working in other films which may not be this grand?
There is nothing called the big or small film. There are hardly any films that do not have VFx these days but the number of VFx shots may be less. In 2.0, we have 2150 VFx shots. We had used 25 studios to generate this. Because of the high number of shots, the budget is big and the film is also big. In a small film, you can have 20 shots too. Proportionally, the budget also will be less. But the quality should be good. Therefore, the directors who want to have VFx shots in their films should work in accordance with their budgets. It all depends on the director's vision which should be brought on screen. Now the audiences have evolved. You cannot cheat them. They watch all kinds of international films. We need to deliver on par with Hollywood. Even if we do one VFx shot it should be best in quality.
As a VFx industry, where are we as opposed to Hollywood?
In this film, 90% of the work is done by Indians. Although there was this firm Double Negative from UK, most of its staff was from India. The majority of the work was done in Chennai and Mumbai. We have abundant talent here. This film is an example of us being so very close to Hollywood. Budget is our main minus. Even this budget of 2.0 is high for us but for Hollywood, it is nothing. Our matter of pride would be that at such a limited budget, we are able to do work and deliver goods close to Hollywood standards. Especially after Baahubali, the VFx industry is generating a lot of market. A film runs because of VFx. If you see films from Hollywood for the last 6-7 years, they all ran because of VFx. This trend has now begun in India. Now there are many Indian films which are using VFx. The industry is healthy now. We have the capability but the talents are a little less in number as against the demands. If the government opens a lot of Visual Effects teaching institutes, then this void could be filled fast.
I have also mentioned to you when we spoke last time that I had started and designed a VFx course in MGR Film Institute; it has been running successfully. Three batches have been completed. In 2.0 also, a few of them have worked as my assistants. They are also working in other films. If there are many such institutes, we can see a lot of resource here.
Kudos, Srinivas Mohan sir!